Results from Friday's Marshfield HS track and field Open. Boys Results: Boys 4 x 8 10:04 Cayman C, Luke M, Joseph H and Ben N 3rd Place Joseph Hargus 800m 2:30.73 3rd Place Daunte Floyd High Jump 1.72 HJ 3rd Place Jansen Hunt Long Jump 5.69 4th Place Ethan Husmann Shot Put 12.01 5th Place Boys finished 5th overall Girls Results: MaKena Hall 1st Place 100m Hurdles, 6th in Triple Jump, 4th in pole vault Auri Phillips 1st Place 300 m hurdles, 2nd place 100m hurdles Gabie McVey 1st place Discus DJ Jaramillo 3rd place mile run, 5th in 800m run Payden Blevins 3rd place Javelin Jaelyn Ernest 7th in Long Jump Aubrey Simpson 8th in Long Jump Adeline Patillo 5th in pole vault Maci Montgomery 5th in discus 4x100m. Hall. Jaramillo. Simpson. Phillips 5th place Girls finished 4th overall.

Aurora High School NHS and JAG members spent Thursday morning bagging over 14,000 bars of soap for distribution during disaster response at Convoy of Hope. These caring young adults received many compliments for their passion and work ethic from the staff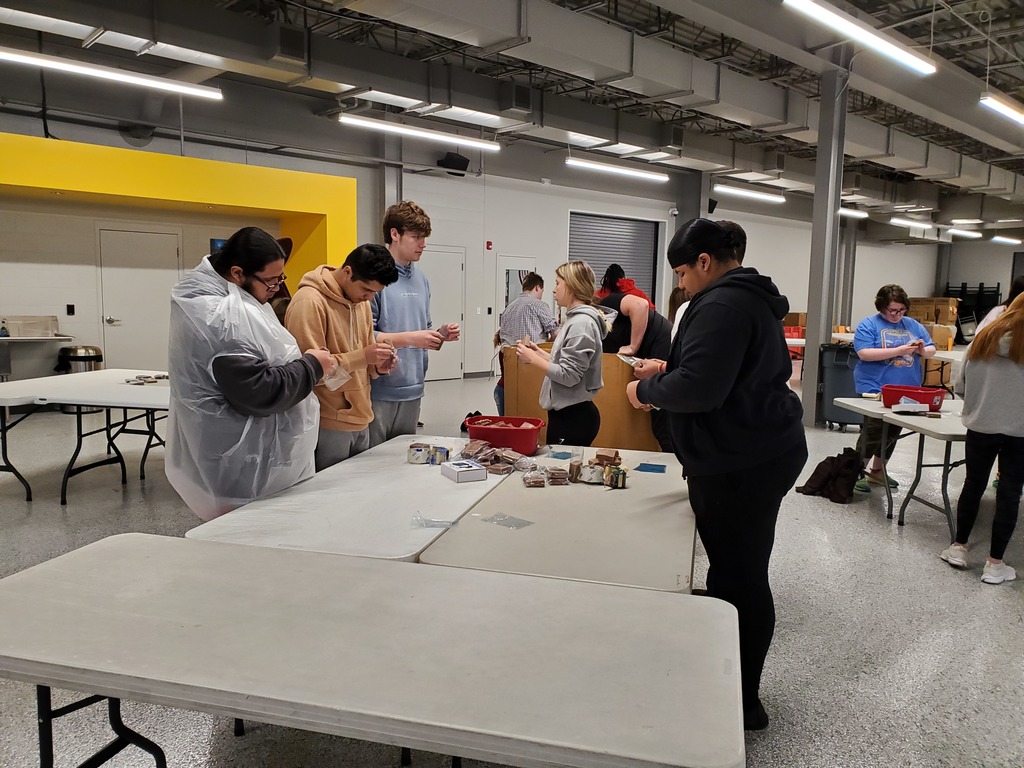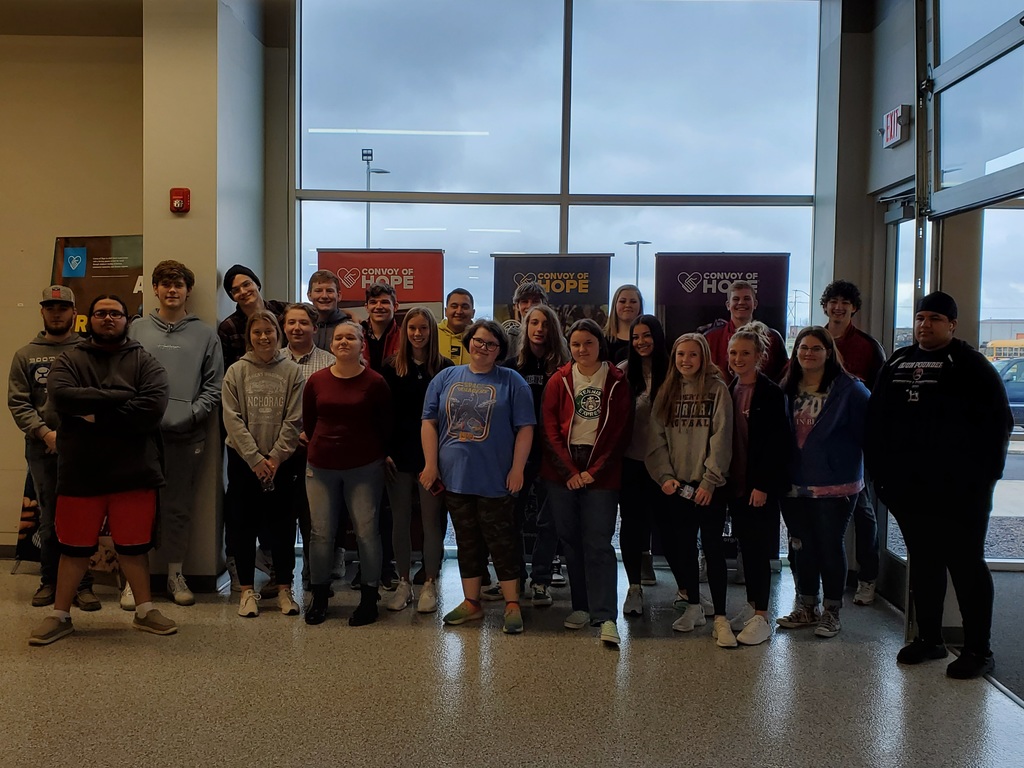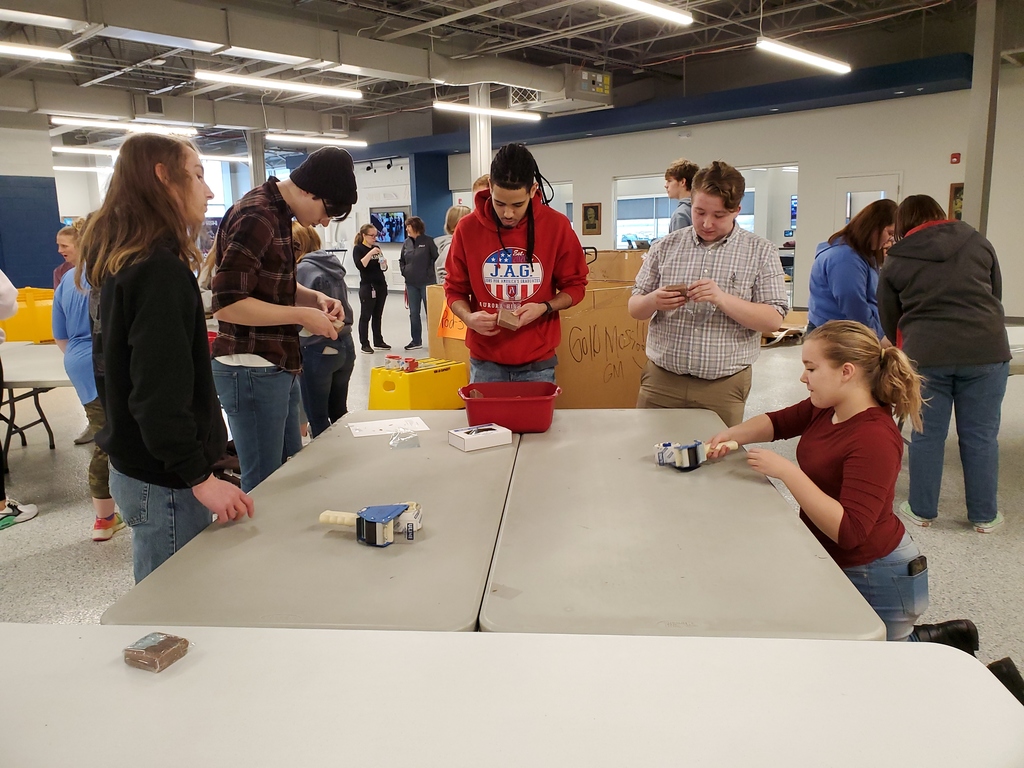 On Thursday, March 10 the Aurora High School NHS members and our driver, Sabin, had a busy day. Packaging hygiene kits for distribution during crisis at Convoy of Hope, they also gathered and distributed food, hygiene, and clothing items from the March Blue Barrel collections.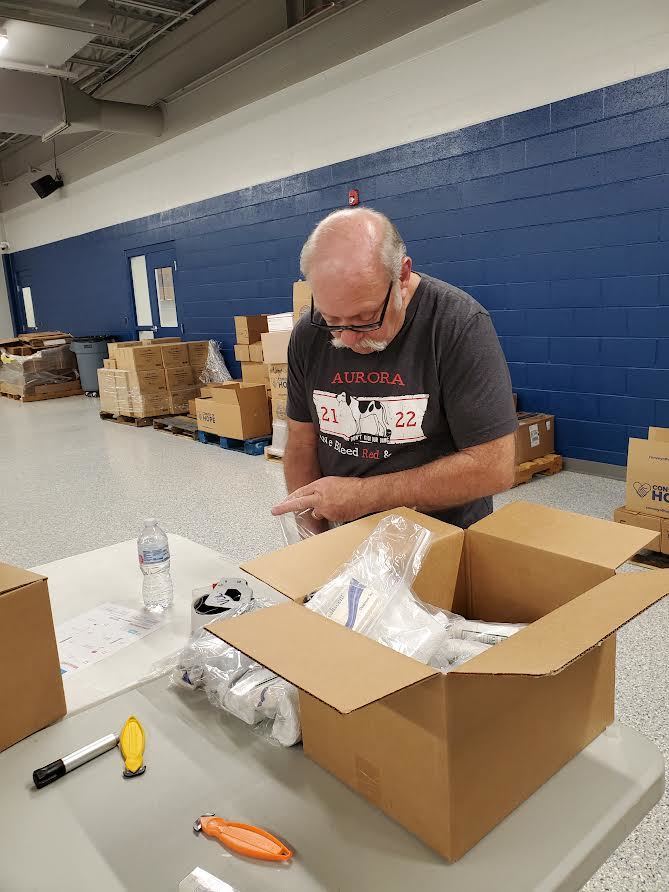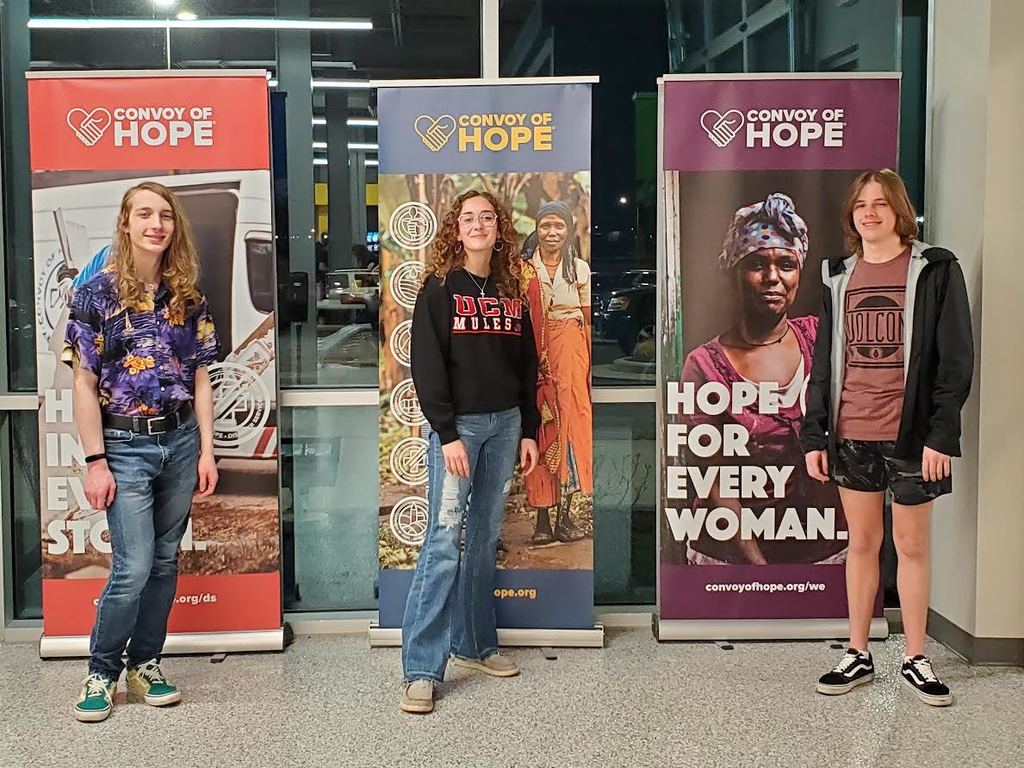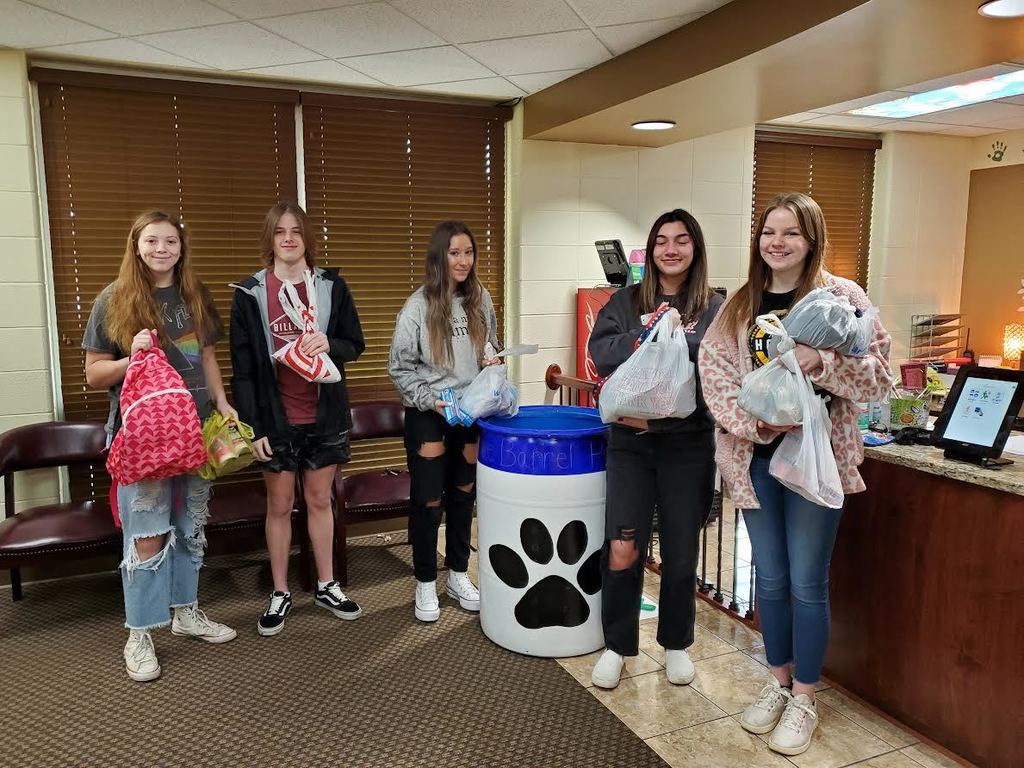 Friday, March 4th the AP Government students competed in the District National History Day competition in Joplin at MSSU. There were three submissions advancing to the State competition in Columbia in mid-April. 1st Place- Haylee Batson in Individual Exhibit 2nd Place - Paige Johnson & Rosie Ackerman in Group Exhibit 3rd Place - Robert Wagner in Historical Paper.

Congrats to the following who were selected as Aurora High School's February students of the month. (pictured left to right) Freshman - Jacek Rackley Sophomore - Zandra Hankins Junior - Leslin Perez Senior - Gabi McVey

AP English students used their research skills at Drury University's Olin Library to dive further into their topics.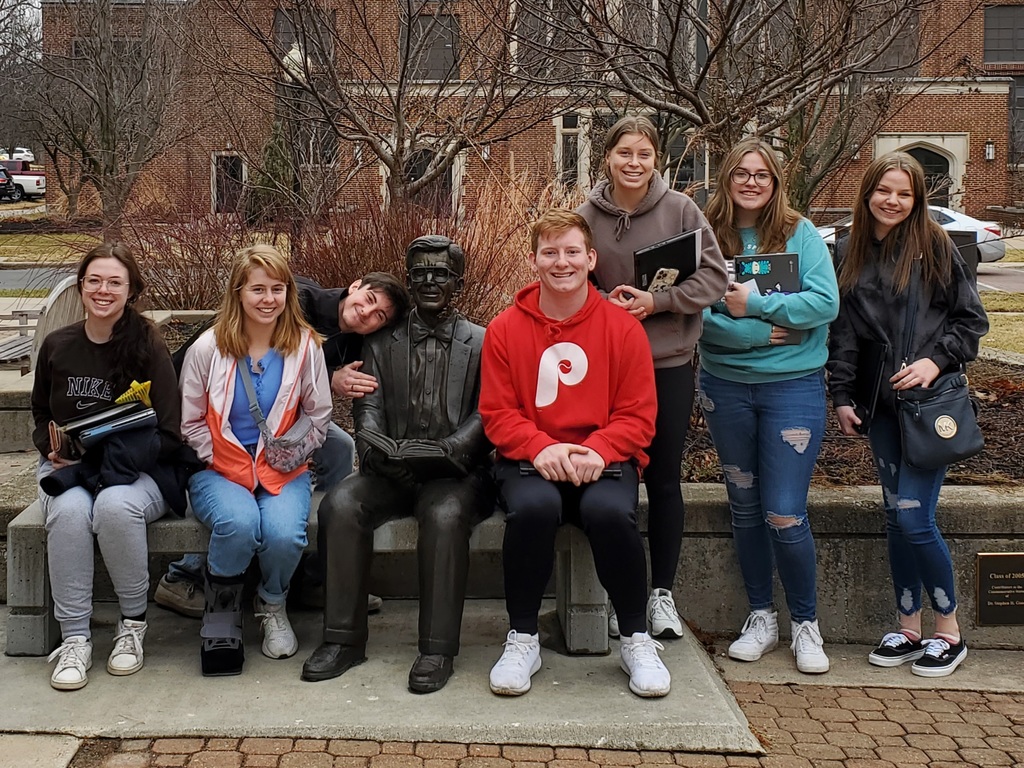 Congratulations to the following students on medaling during the Scott Tech District Skills USA competition. Auri Phillips in Culinary Arts: 2nd Place Brendon Hall in Related Technical Math Written Test for Welding: 2nd Place Nathanial Schmitt Welding Fabrication: 3rd Place Auri and Brendon will compete at the State Competition on April 8th and 9th.

Aurora FFA Booster Club Fish Fry is going on tonight from 5-7:30pm at the High School. All you can eat fish, chicken, and fixins. To go orders are available. Tickets available at the door. Ripplin' Creek Band will be providing live music. A silent Auction is also taking place.

Some of our NHS members working hard on the clothing closets. Keep up the great work!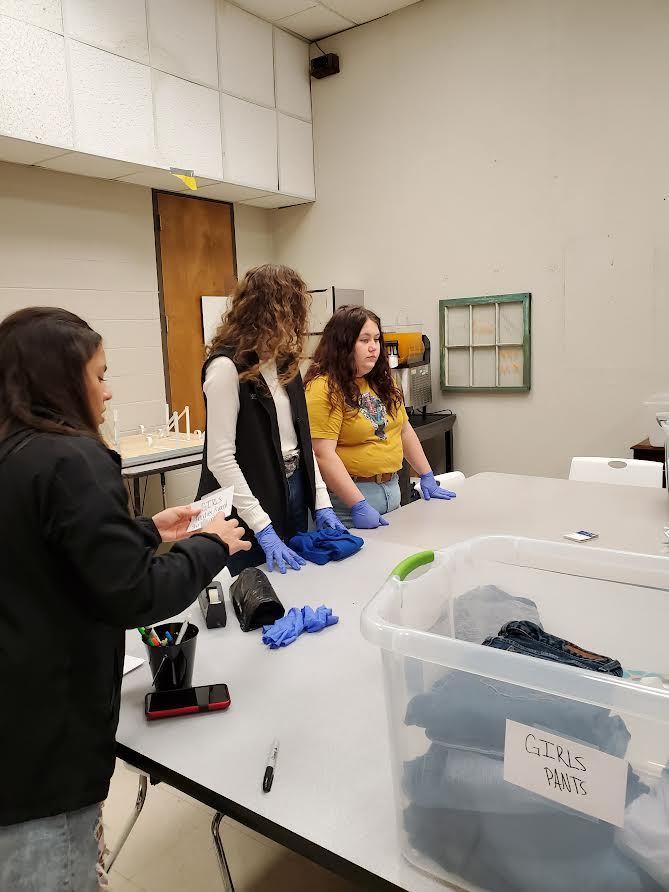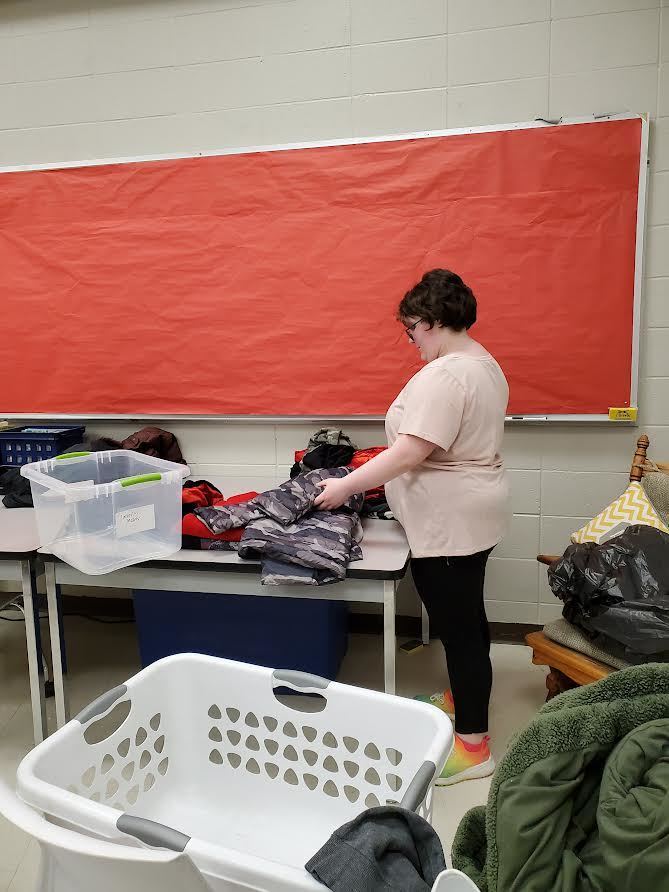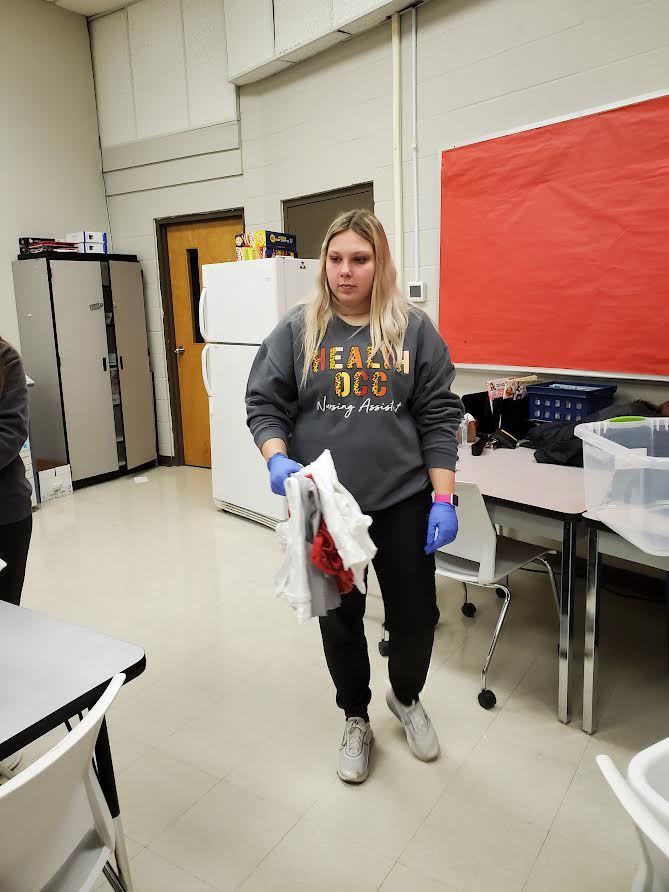 NHS members volunteered yesterday organizing and cleaning the Robinson and Junior High Care Closets and the Houn Dawg Clothing Closet. Thanks for going above and beyond.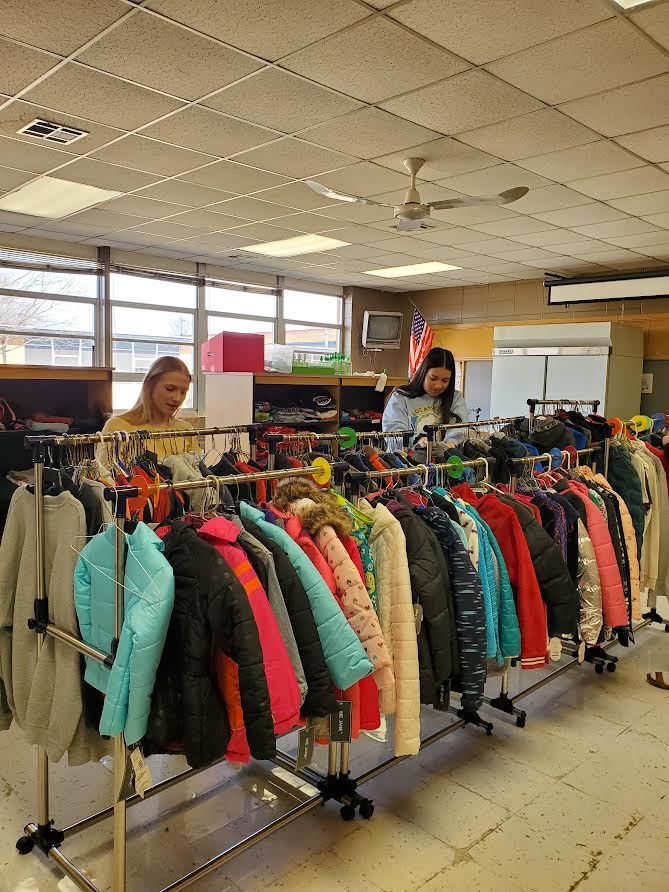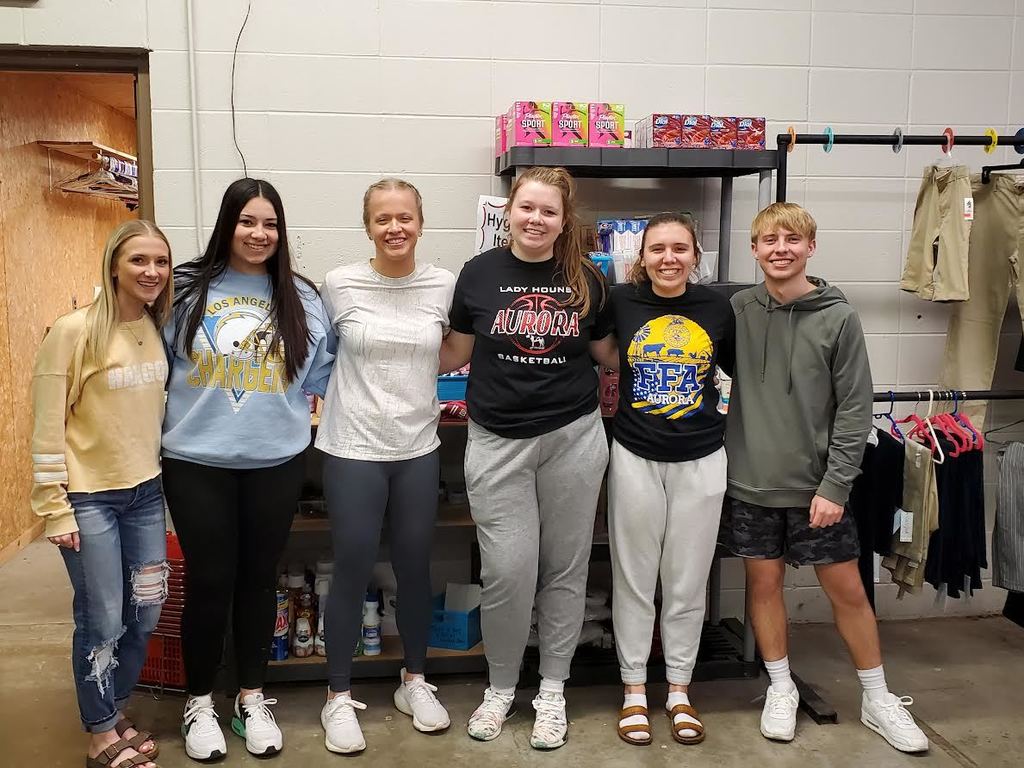 Aurora FBLA Students attended the District Leadership Conference in Monett, MO on Thursday, February 10th. Students earning medals will be advancing to the Missouri State Leadership Conference in April. Results are: Madison Daniels, 5th place in Business Calculations and 1st Place in Introduction to Financial Math, Robert Wagner, 1st Place in Computer Problem Solving and 1st Place in Networking Infrastructure. Other student results are: Cooper Blackburn 6th Place in Cyber Security Lillian Jonason 6th Place in Journalism Jasmine Buchholz 9th Place in Journalism Jansen Hunt 12th Place in Advertising The Parliamentary Procedure team of Cooper Blackburn, Brittney Simagna, Carissa Simagna, and Ethan Wolf earned 3rd Place. The Sales Presentation team of Carissa Simagna and Madilyn Winchell earned third place. Lastly: Brittany Simagna was selected to be the Parliamentarian for the FBLA District 6 Student Officers Team for the 2022-2023. Brittany earned her position by achieving the lowest score when taking the Parliamentarian Objective Test in December 2021. Congrats to Brittany!!

Congratulation to AHS January Students of the Month (left to right): Freshman - Nadia Davis Sophomore - Carsen Hamelink Junior - Jack Cline Seniors - Caleb Wittenborn and Alex Phelps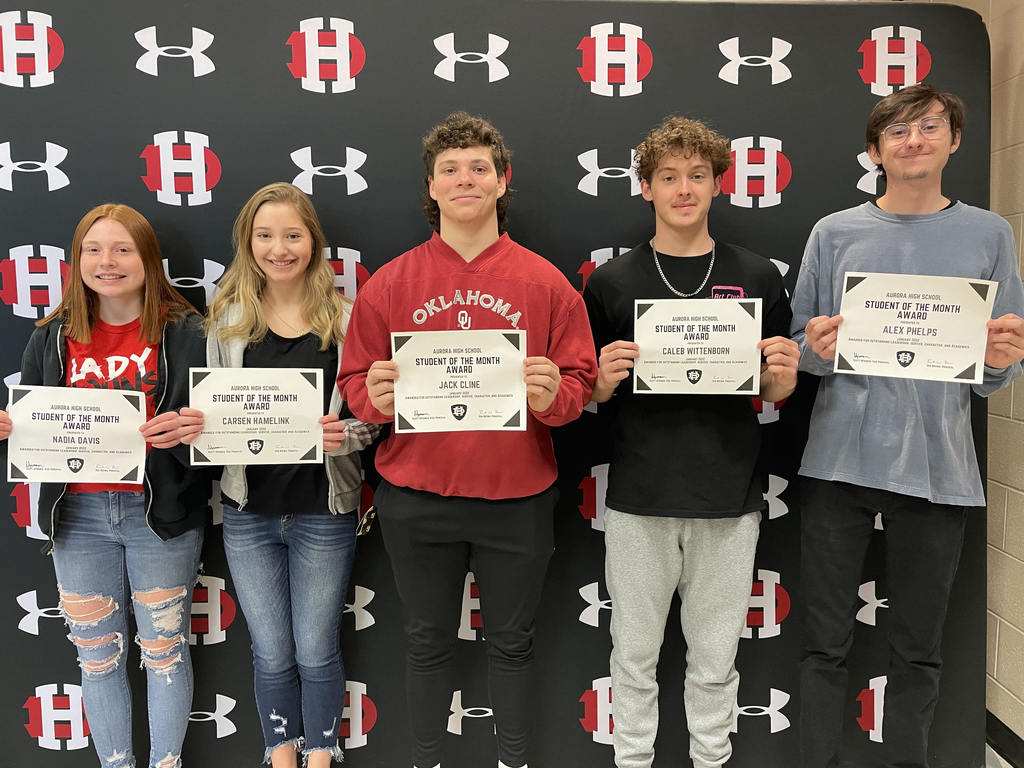 A meeting for any students interested in signing up for track and field will be held in the High School Commons at 10:00 AM on Thursday, February 10th. The track team store is now open. Visit the link. Store closes on 2/17.
http://bit.ly/34uSLeL

Every year, the Aurora R8 School District recognizes its honor graduates using the Laude system. There are three levels of recognition in this system based on the final weighted grades at the end of the student's 7th semester. The three levels of recognition are: Summa Cum Laude - "with highest praise" Magna Cum Laude - "with great praise" Cum Laude - "with praise" We are pleased to announce the following honor graduates. These students will be awarded their Laude medals at the Senior Awards Assembly on Thursday, May 5th at 7 pm in the high school gym and recognized at graduation. Summa Cum Laude Arlind Osmani Alexander Phelps Cameron Savage Joseph Hargus Isabella Maggio Kaci Singer Brooke Schutte Mackenzie Hall Xane Shirley Gabriella McVey Makenna Besett Magna Cum Laude Felix Barrientos-Perez Mallorie Schmidt Devin Sims Kohl Rohlman Jayden Wagner Mikailey Butts Cum Laude Daniel Jones Elizabeth Stapleton Jaesik Friggle Josh Cornell Gabriel Henson Saige Spooner Khianna Hart Berrick Dobyns Thalia Figueroa Bailey Andrews Hannah Hudson

Aurora HS FCCLA did a pie baking fundraiser for the Breast Cancer Foundation of the Ozarks (BCFO), they sold their yummy pies and raised over $250 for our organization! We are so thankful!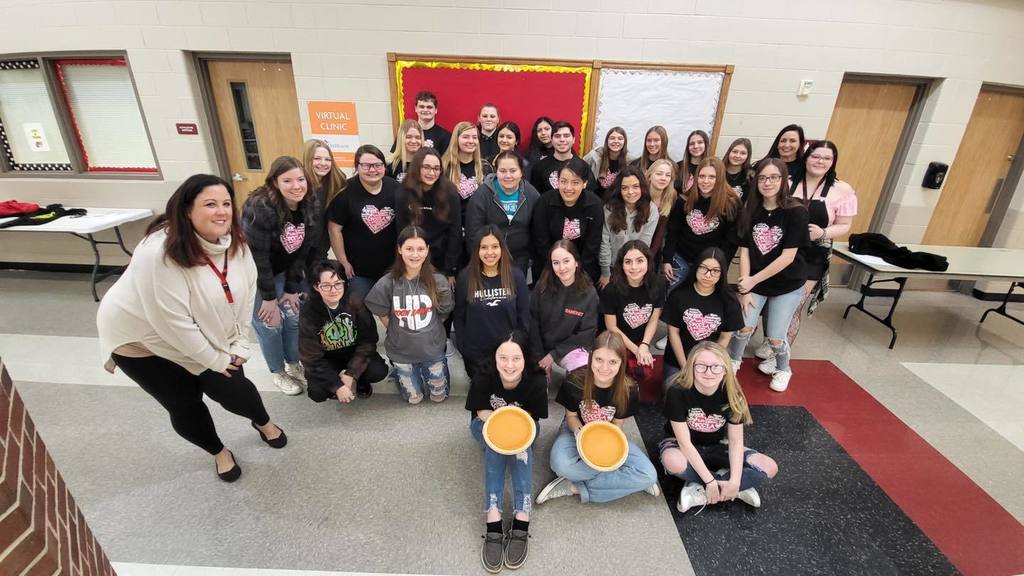 Students who attend SRTC in Monett will not be traveling to SRTC Thursday, January 20th through Monday, January 24th due to Monett R-1 being on wellness break. They will return to SRTC on Tuesday, January 25th. The students will be responsible for their SRTC AMI work. Students who are taking Launch class(es) will still need to complete their assignments as usual on the Launch platform even though Springfield Public Schools are on a wellness break.

All games and matches scheduled for today, January 6th, have been postponed. Rescheduled dates will be announced at a later time. Stay safe and warm!

Congratulations to the Aurora High School December Students of the Month (pictured right to left) Freshmen - Carissa Simagna and Maria Sustaita Sophomore - Kloey Boyd Junior - Maci Montgomery Senior - Brooke Schutte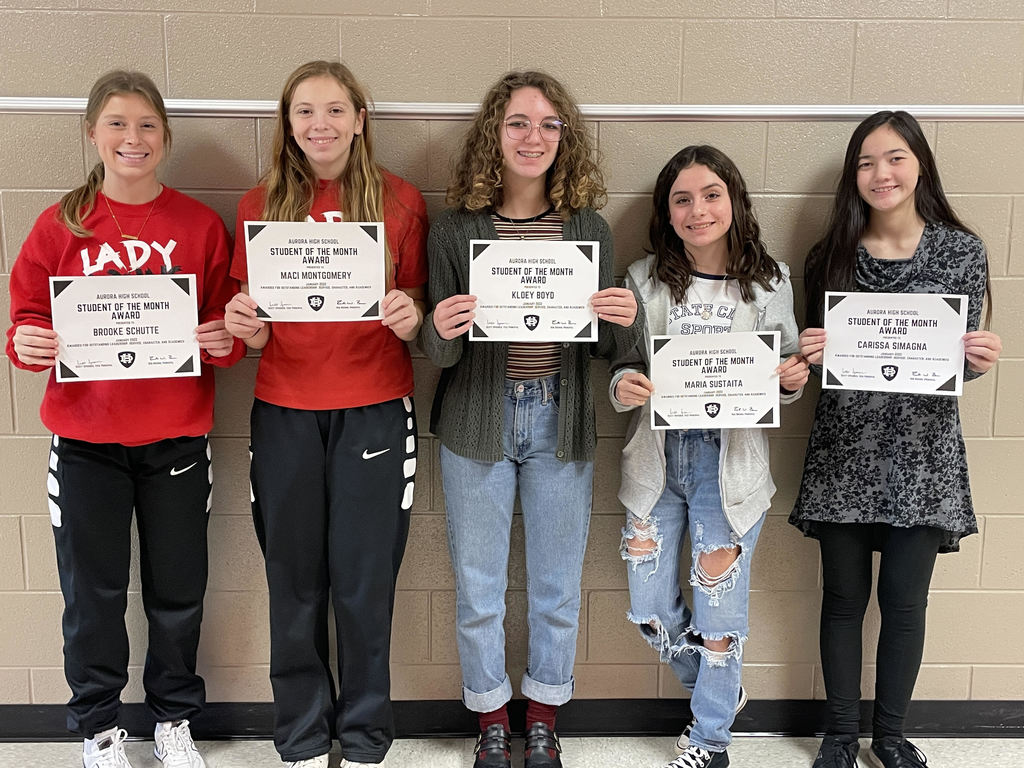 Congratulation to these student athletes on their All District and All State Honors: 2nd Team MFCA All State: Ian Jackson LBR 3rd Team MFCA All State : Ryan Clark Def End Aaron Fisher DB MFCA All District Team: Ian Jackson LBR Ryan Clark. Def End Aaron Fisher. DB Felix Barrientos LBR Ethan nHusmann. O-Line Jackson Cline. O-Line Jacob Rohlman. Returner MFCA All State Academic Team: Cameron Savage Felix Barrientos Jacob Rohlman

Congratulations to the following football student athletes for receiving these post season honors! Southwest Missouri Football Coaches Association All Area Team 1st Team Offense: Ethan Husmann O-Line Jackson Cline O-Line. "Unanimous" Ian Jackson RB. "Unanimous" 1st Team Defense: Ian Jackson LBR Aaron Fisher DB "Unanimous" Jackson Cline D- Line. "Unanimous" 2nd Team Offense: Trey Mulholland O-Line Jacob Rohlman. RB Ryan Clark. TE 2nd Team Defense: Ryan Clark DE Jacob Rohlman DB Honorable Mention: Felix Barrientos O-Line Aaron Fisher QB Honorable Mention Defense: Trey Mulholland D-Line Ethan Husmann Def. End Cameron Savage LBR Felix Barrientos. LBR Gavin Youngblood. DB Brendan Hall DB Hon Ment. Punter. Trey Mulholland Hon. Ment. Returner Jacob Rohlman