Students who attend SRTC in Monett will not be traveling to SRTC Thursday, January 20th through Monday, January 24th due to Monett R-1 being on wellness break. They will return to SRTC on Tuesday, January 25th. The students will be responsible for their SRTC AMI work. Students who are taking Launch class(es) will still need to complete their assignments as usual on the Launch platform even though Springfield Public Schools are on a wellness break.

All games and matches scheduled for today, January 6th, have been postponed. Rescheduled dates will be announced at a later time. Stay safe and warm!

Congratulations to the Aurora High School December Students of the Month (pictured right to left) Freshmen - Carissa Simagna and Maria Sustaita Sophomore - Kloey Boyd Junior - Maci Montgomery Senior - Brooke Schutte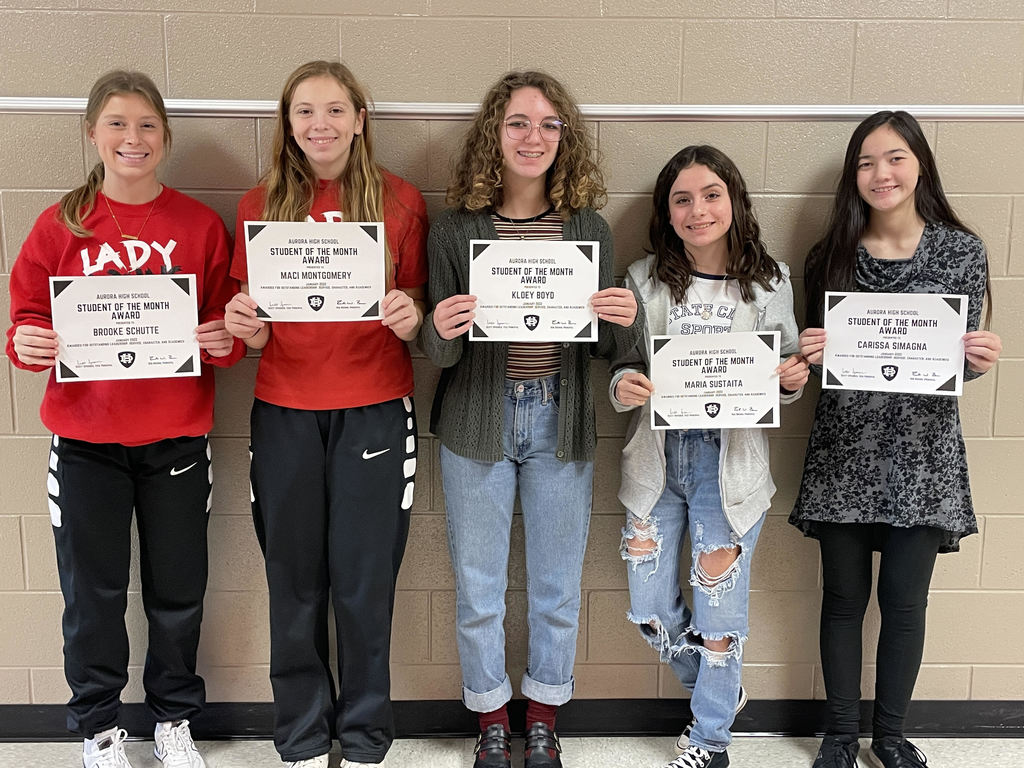 Congratulation to these student athletes on their All District and All State Honors: 2nd Team MFCA All State: Ian Jackson LBR 3rd Team MFCA All State : Ryan Clark Def End Aaron Fisher DB MFCA All District Team: Ian Jackson LBR Ryan Clark. Def End Aaron Fisher. DB Felix Barrientos LBR Ethan nHusmann. O-Line Jackson Cline. O-Line Jacob Rohlman. Returner MFCA All State Academic Team: Cameron Savage Felix Barrientos Jacob Rohlman

Congratulations to the following football student athletes for receiving these post season honors! Southwest Missouri Football Coaches Association All Area Team 1st Team Offense: Ethan Husmann O-Line Jackson Cline O-Line. "Unanimous" Ian Jackson RB. "Unanimous" 1st Team Defense: Ian Jackson LBR Aaron Fisher DB "Unanimous" Jackson Cline D- Line. "Unanimous" 2nd Team Offense: Trey Mulholland O-Line Jacob Rohlman. RB Ryan Clark. TE 2nd Team Defense: Ryan Clark DE Jacob Rohlman DB Honorable Mention: Felix Barrientos O-Line Aaron Fisher QB Honorable Mention Defense: Trey Mulholland D-Line Ethan Husmann Def. End Cameron Savage LBR Felix Barrientos. LBR Gavin Youngblood. DB Brendan Hall DB Hon Ment. Punter. Trey Mulholland Hon. Ment. Returner Jacob Rohlman

Congratulations to the Speech Team on their wins at the Monet Speech Tournament this past weekend. 1st Place in Dramatic Interp was Caymen Cornelison 1st Place in Original Oratory was Carissa Simagna 2nd Place in Original Oratory was Jasmine Buchholz 5th Place in Informative Speaking was Castle Spieker

At tonights (12/6) Girls Basketball game at Bolivar they will be using digital tickets. Please use the QR code to get your tickets. Also, the varsity girls will start at 6:00, followed by 1 quarter of JV.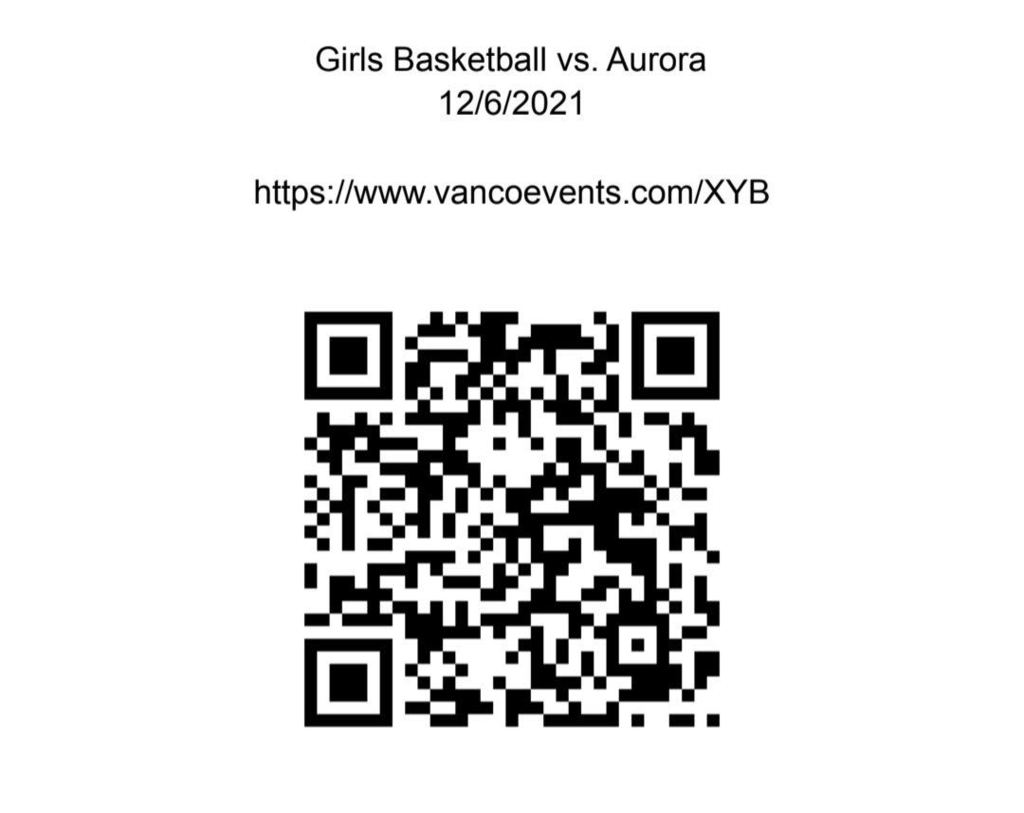 Congratulation to the AHS November Students of the Month: (Pictured Left to Right) Freshman - Emilee Coffey Sophomore - Nora Gibson Junior - Ellie Creasey Senior - Mallorie Schmidt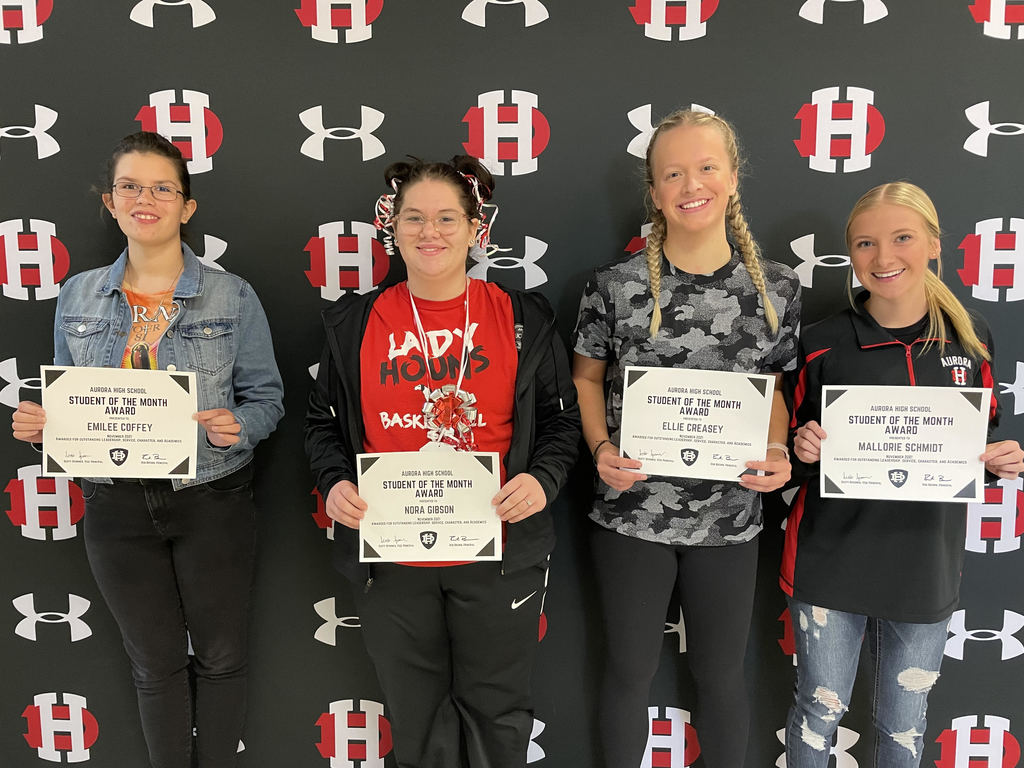 Congratulations to Nathaniel Schmitt who placed 1st for his welding skills at the Skills USA competition on November 30, 2021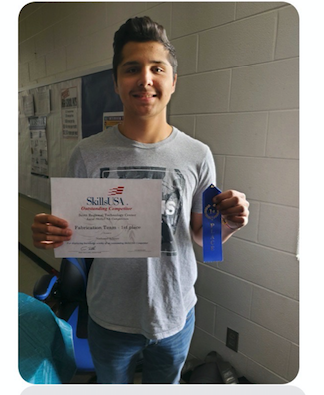 Thanksgiving week schedule: Monday, November 22- School in Session Tuesday, November 23- School in Session Wednesday, November 24- Sunday, November 28- Closed

The AHS Speech/Debate team had a good showing at the Nixa Speech Tournament this past weekend, two of our seven competitors made it to finals and brought home trophies. Winning 6th place in Novice Dramatic Interp. was Caymen Cornelison. Winning 6th place in Novice Original Oratory was Emilee Coffey.

On Thursday, November 11th the FFA program had speakers compete at Area XI Fall Speaking Contests. Proud of these members for their hard work and determination. Congratulations to: Carissa Simagna - 1st in MO Pet Breeders Logan Rysted - 1st in MO Sheep Producers Taylor Lauffer - 1st in Young Farmers/Young Farmwives Jaydn Rohlman - 2nd in MO Soil & Water Kyrstin Gold - 3rd in MO Sheep Producers Berrick Dobyns - Alternate in MO Quarter Horse (Silver Rating) Brittney Simagna - Alternate in MO Pet Breeders (Silver Rating) Castle Spieker - Silver Rating in MO Pork Producers Destiny Jaramillo - Silver Rating in Young Farmers/Young Farmwives Carissa, Logan, Taylor, Jaydn, and Kyrstin move on to districts next week.

Congratulation to Kaci Singer who signed with Pitt State today to continue her running and academic career.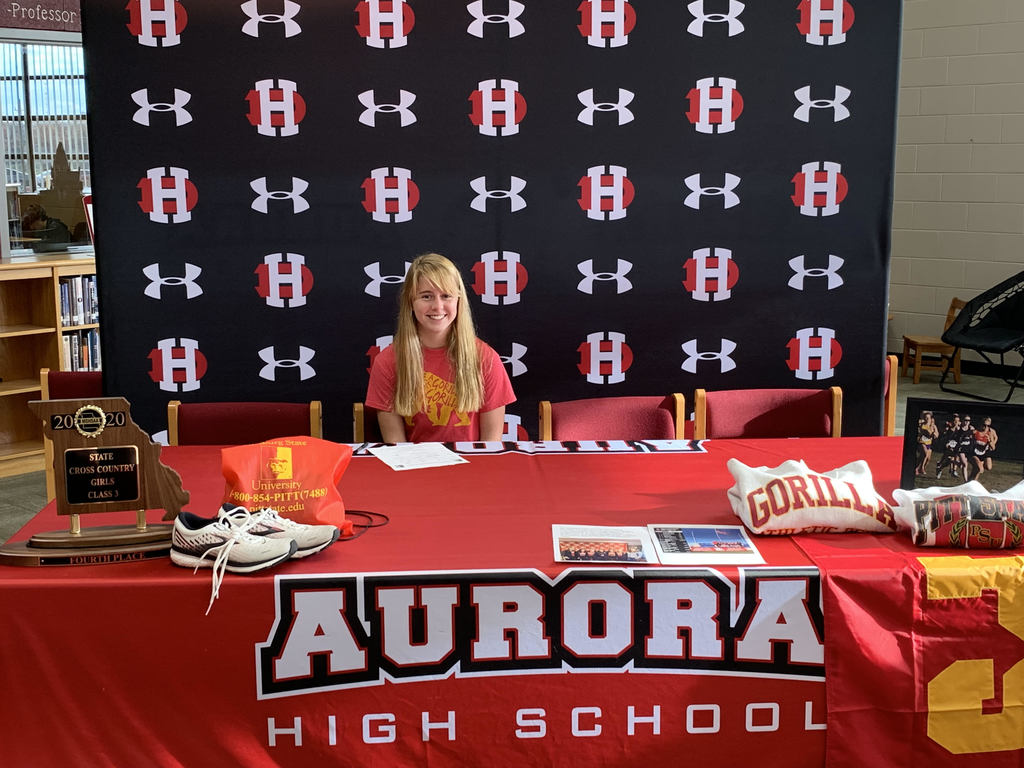 As a fundraiser for Prom, the Junior Class is selling Houn' Dawg Christmas tree ornaments! They are locally made and customizable. If you are interested in ordering an ornament, please follow the link below to the order form!
https://forms.gle/ZpLM2R3qFtQ7YZQZ8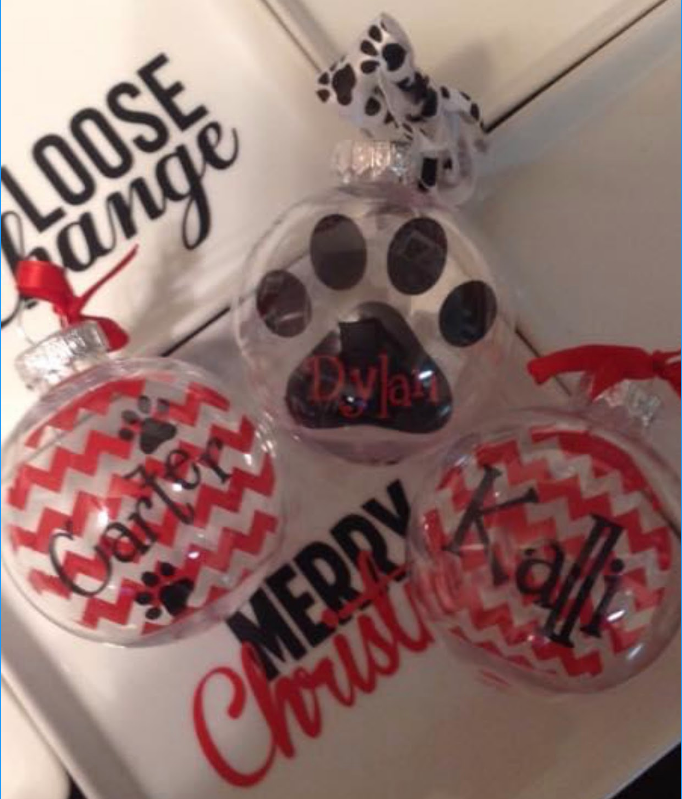 Congratulations to Gabie McVey and Hannah Hudson for receiving honorable mention Big 8 East All-Conference honors for their volleyball efforts.

Congratulations to the band students on earning spots on the SWMMEA District Honor Band. These student now have the opportunity to travel to Columbia and audition for the All-State Band in December! Brittney Simagna - 7th chair flute Katie Sharpe - 22nd chair clarinet Wyatt Lawson - 5th chair horn Olivia Ray - 3rd chair trombone Adam Bland - 6th chair tuba Cooper Blackburn - 1st alternate timpani

Kaci Singer, SENIOR, LEAVES IT ALL ON THE FIELD AND BECAME SCHOOL WINNER IN THE HEISMAN HIGH SCHOOL SCHOLARSHIP COMPETITION AWARDED BY THE HEISMAN TROPHY TRUST AND ACCEPTANCE INSURANCE. The National Award Program Releases the Names of 2021 School Winners Today, The Heisman Trophy Trust and Acceptance Insurance announce the 2021 School Winners for the Heisman High School Scholarship presented by Acceptance Insurance. From an applicant pool of thousands of high school scholar-athletes graduating with the class of 2022, more than 5,700 have been named School Winners in the Heisman High School Scholarship competition awarded by The Heisman Trophy Trust and Acceptance Insurance. Scholarship amounts have increased in 2021. School Winners will continue on for the chance to become State Winners, National Finalists or National Winners. State Winners receive a $1,000 college scholarship, National Finalists receive a $2,000 college scholarship and the male and female National Winners will each receive a $10,000 college scholarship. A complete list of School Winners can be found at
https://www.heismanscholarship.com/results/
.

Just a reminder that Aurora High School has tutoring available Monday through Thursday until 4:30 PM, and transportation home is provided if needed.

Congratulations to Gabie McVey for earning Class 3 All District 2nd team honors in volleyball.

Congratulation to the Aurora High School October Students of the Month: Freshmen - Clayton Jaramillo, McKinzee Malott Sophomores - Marisol Castillo, Wyatt Lawson (not pictured) Juniors - Payden Blevins, Emily Gearhart Senior - Mitchell Bayless