EDIT MAIN
Announcements

Students
this is A reminder that once you have entered the building to attend a ballgame, no re-entry is allowed.
Congratulations to the following 2020 Basketball Homecoming Candidates:
King: Ryan Cline, Drew Shoemaker and Chance Noll
Queen: Kortney Juracek, Chloe Ryan and Riley Fieker
Prince and Princess:
Juniors: Dominick Floyd and Nallely Martinez
Sophomores: Aaron Fisher and Bella Maggio
Freshmen: Trandan Darnall and Ellie Creasey
PARENT / TEACHER CONFERENCES
WILL BE HELD ON MONDAY, MARCH 9TH & TUESDAY, MARCH 10TH FROM 3:30 - 6:30 PM
FISH FRY
The FFA Booster Club Fish Fry will be Saturday February 15th beginning at 5:00pm and running until 7:30pm IN THE HIGH SCHOOL COMMONS AREA. They are serving Fish/Chicken with fixins and dessert. Ripplin Creek Bluegrass Band will be playing and a silent auction will be held as well. FFA members need to turn in their fish fry tickets and money Thursday February 13th.
NHS
We will travel to Convoy of Hope to volunteer at Hands of Hope on February 11, March 10, and April 7 this spring. We will leave at 4:00 PM and return around 9:30 PM. Please bring money to eat dinner at the mall before going to volunteer. Everyone attending this semester will need to complete a new permission form. Please pick up the permission slip when signing up in Mrs. Garoutte's room, 306. Please sign up for the February 11 date by Friday, February 7 to attend.
Volunteers are needed to work the concession stand at the soccer games this spring. Two members are needed for each game arriving by 4:40 PM and staying until just before the JV game is over around 7:15 PM. Please check in with Sandy Rogers at the Concession Stands upon arrival. Please see the document sent via email to sign-up.
Donkey basketball
THE AURORA PROJECT GRADUATION WILL BE HOSTING DONKEY BASKETBALL AT THE JR HIGH SCHOOL ON FRIDAY, FEBRUARY 28TH @ 6:30PM. YOU CAN PURCHASE TICKETS FOR $7 AT THE HIGH SCHOOL OFFICE, YOUR PIZZA PLACE AND FIRST INDEPENDENT BANK OR $10 AT THE DOOR.
father/daughter dance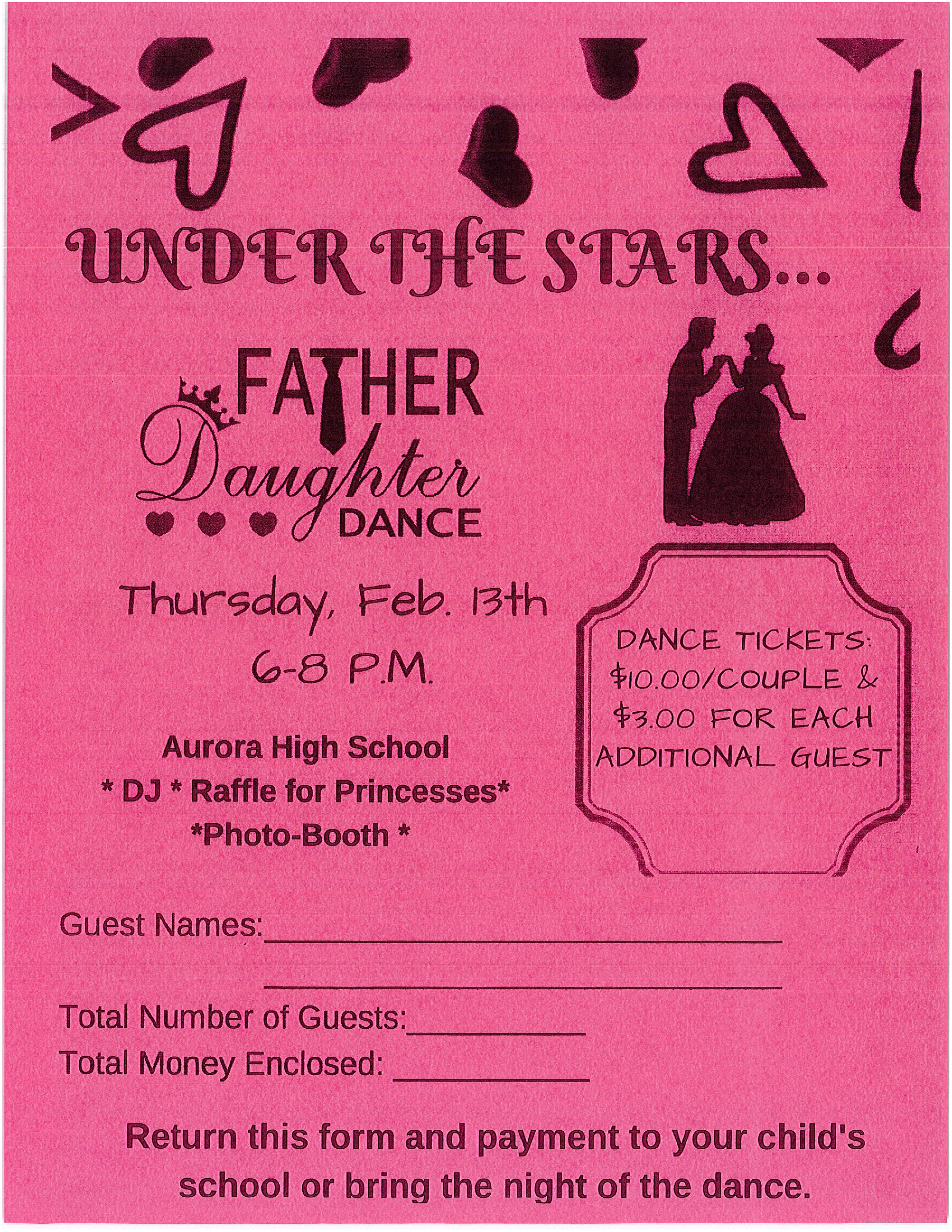 PROM
SATURDAY, APRIL 4TH
Guys: Please see attachment below - good deal and he helps support our Prom for each tuxedo rented!
Girls: MRS. BAYANS HAS coupons for $20 off a dress - if interested, GO SEE HER!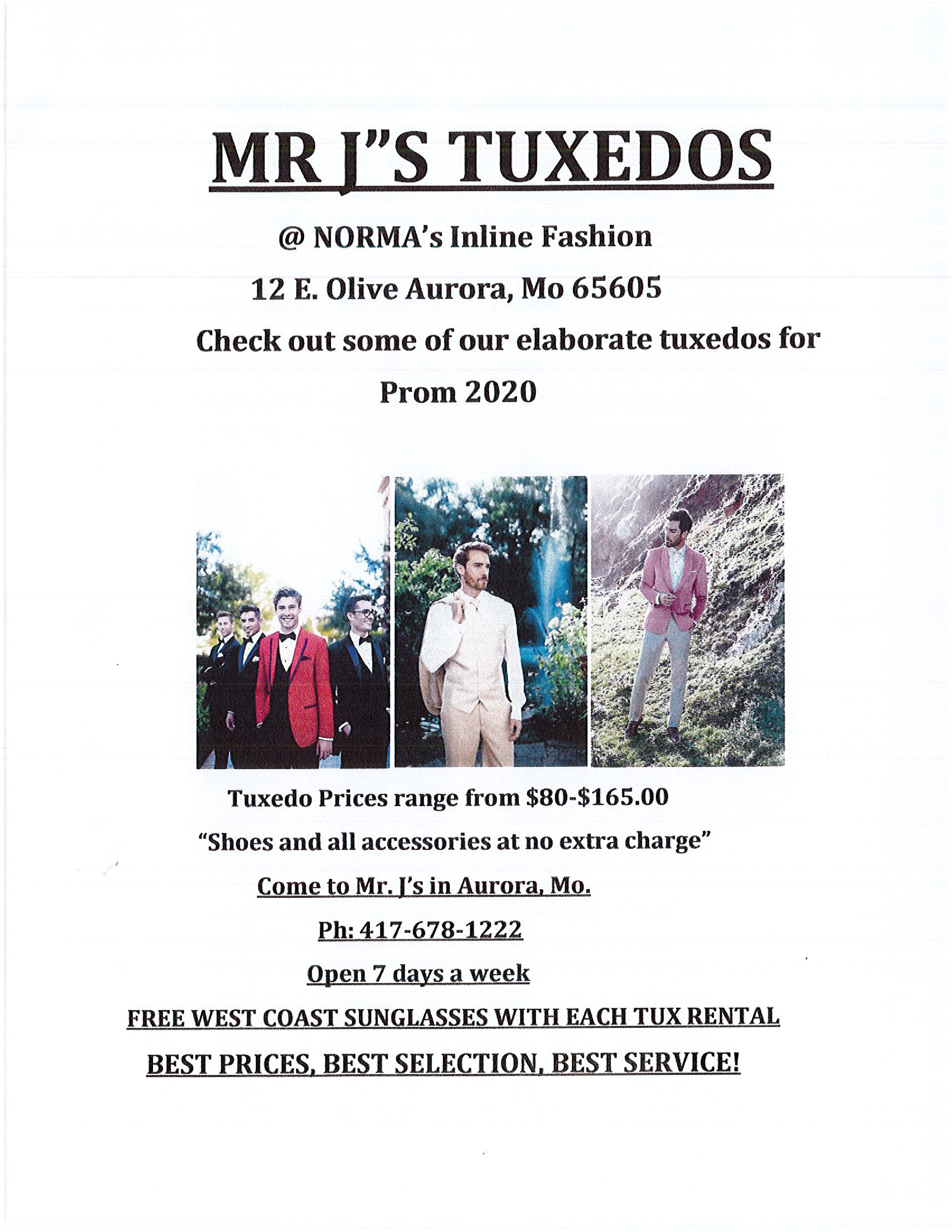 Blue Barrel Project

"For the LOVE of Pants!!"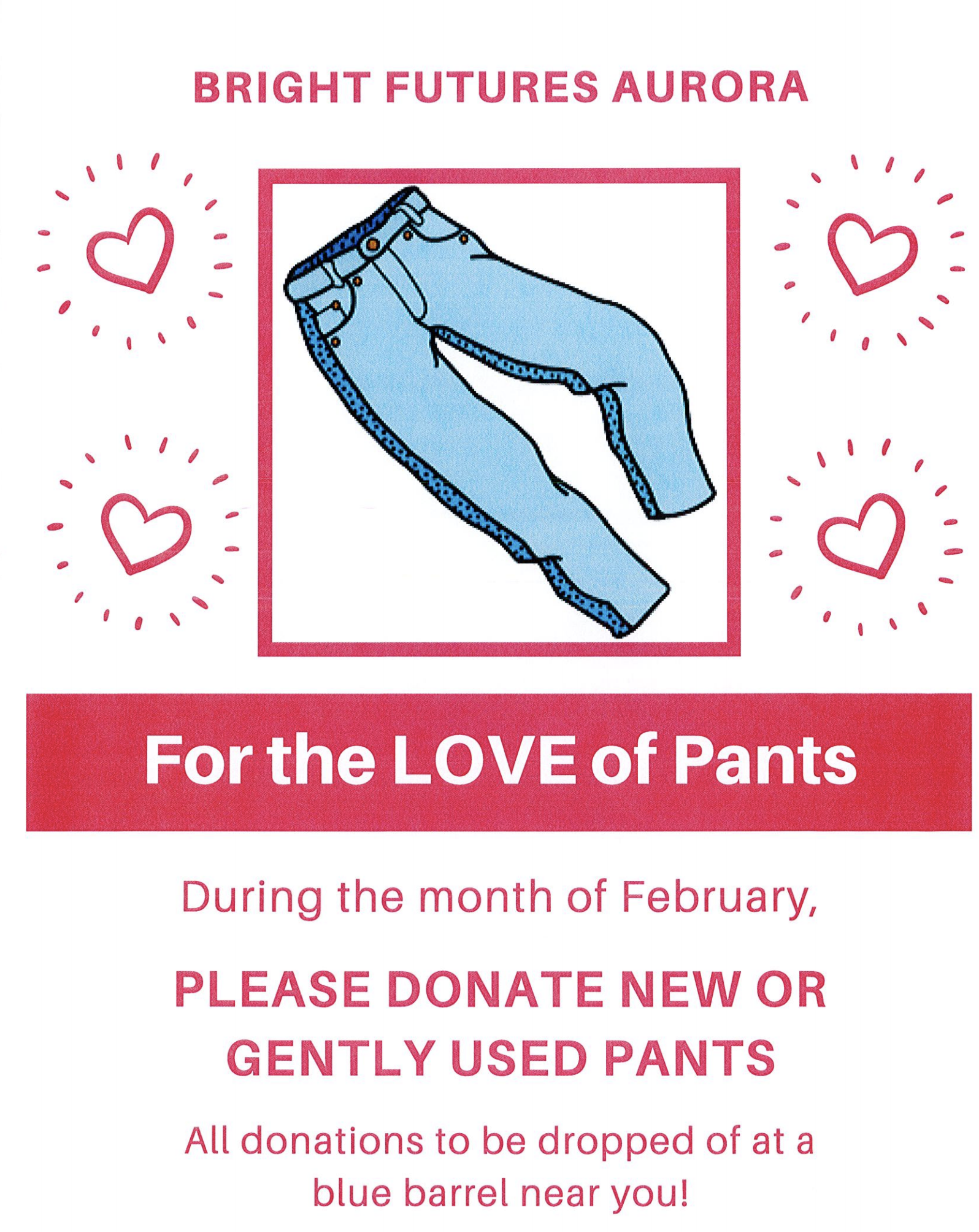 CONGRATULATIONS TO THE FOLLOWING STUDENTS OF THE MONTH!

Freshman - brittney simagna
Sophomore - christina wirth
Junior - susana lopez
Senior - kristopher lopez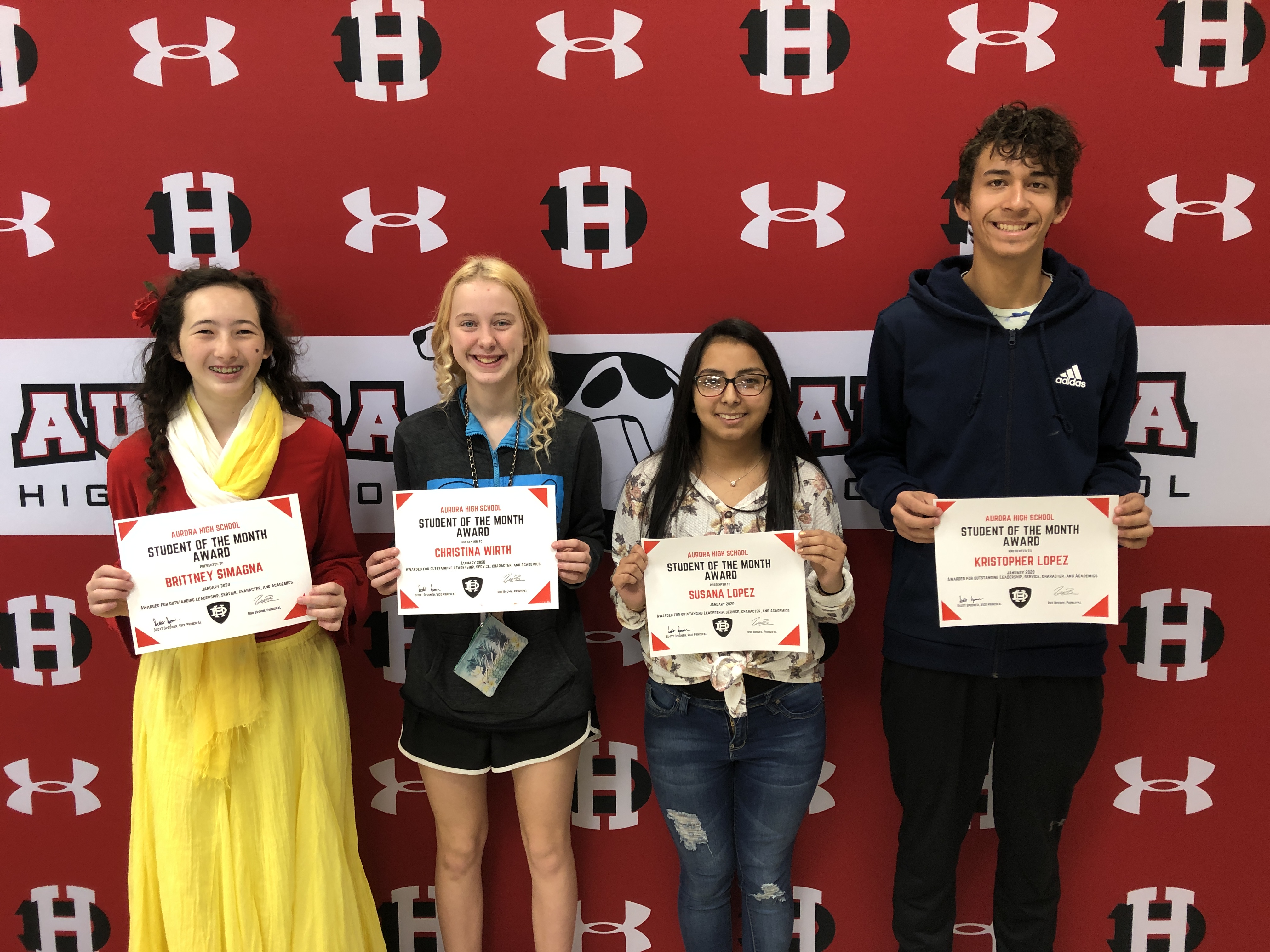 SRTC Application for the 2020-2021 school year!
Go ahead and apply early to secure your spot. Students must be on track with regard to core courses to be eligible to attend SRTC.
Seniors are encouraged to go ahead and apply for two year programs if you are interested in them. Priority will, however, be given to students who can complete the program.
Contact the counseling office if you have any questions.

https://www.surveymonkey.com/r/Aurora20-21
Health Services
This is a reminder student should not be sent to school sick. They are unable to learn well when they are feeling ill. If your child has a temperature of a 100 degrees or greater, vomiting, or diarrhea, he/she should stay at home until these symptoms have not occurred for 24 hours or otherwise approved by the school nurse.
A student who becomes ill or needs medical attention must report to the nurse's office for evaluation. If necessary, parents will be contacted and will be responsible for transportation if the student is sent home. STUDENTS WILL NOT BE ALLOWED TO LEAVE SCHOOL FOR AN ILLNESS UNLESS THEY HAVE VISITED THE NURSE'S OFFICE. Once it has been determined that a student needs to leave for medical reasons, they must sign out at that time in the office.
Parents and students, please help us with this task. We are not able to help students medically if the nurse is unaware of the medical situation at hand. Please talk with the nurse prior to coming to pick up your student.
REMEMBER....
If you are unable to have your sick child seen by your Primary Physician please remember the Cox Virtual Clinic that we now offer at the Aurora Schools. Cox hours currently are 8am-12pm. Below is an attached flyer with more information.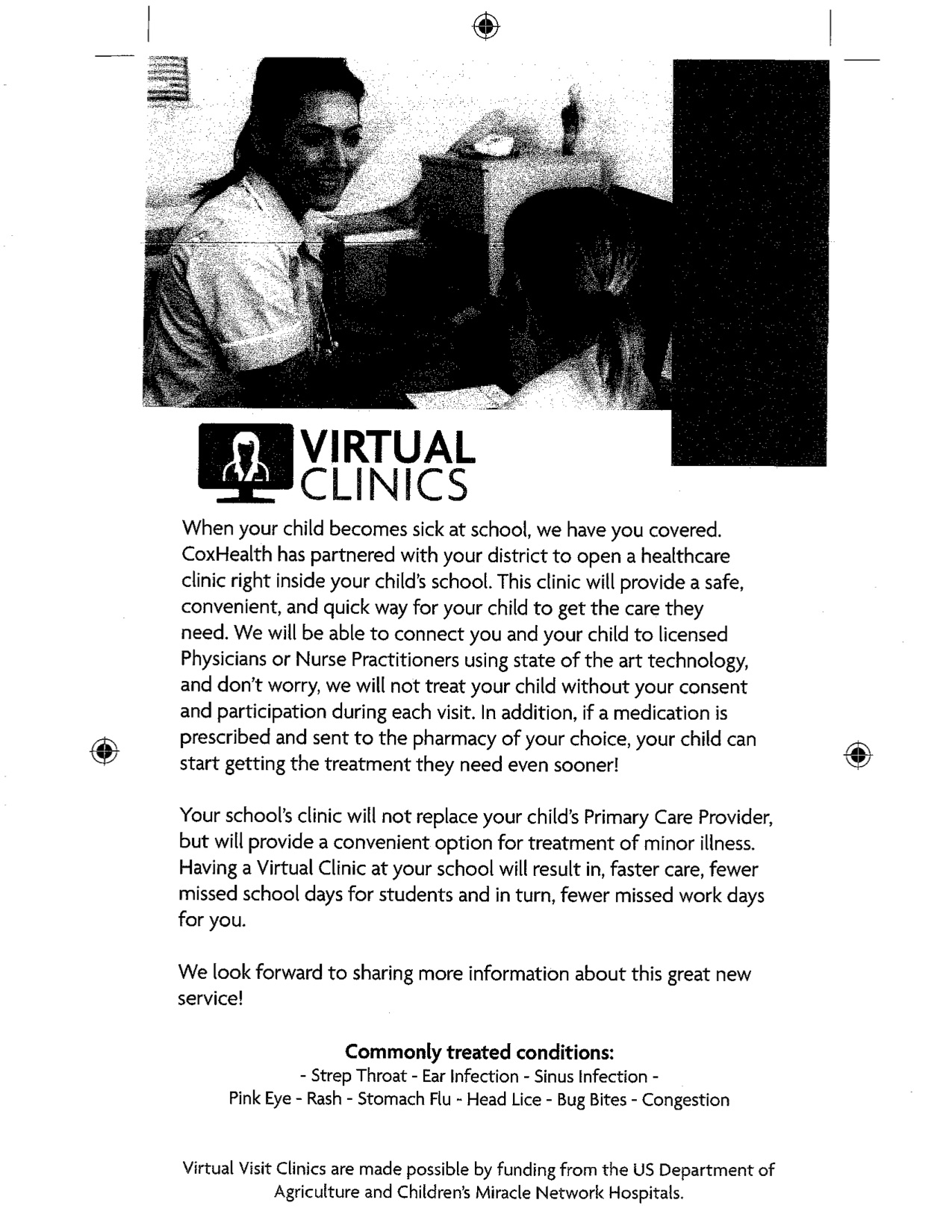 Students: second chance breakfast
This is just a reminder that breakfast is free; however, "Second Chance Breakfast" is only for you to get if you missed first breakfast. If you get more than one breakfast, your account will be charged.
Reminder: If your lunch balance falls below -$10.00 (negative ten dollars), your lunch account will have a block placed on it, and you will receive a sack lunch--this includes a sandwich, fruit, and milk--from the the cafeteria until your account is paid. If you have any questions or need to set up a payment plan, please feel free to contact Amy in the high school office, or you can email her at amyjones@aurorar8.org
Trauma-Informed Schools
This link includes information, links, and phone numbers for numerous agencies to assist students, parents, community members, and staff.
Counseling Office Announcements
Here's how to do an ONLINE (SELF) REFERRAL (which basically means you want to "sign up" to see one of the Counselors):
1)go to the school website www.aurorar8.org
2)click on the "sites" tab at the top, then click on "Aurora High School". You are now on the AHS page of the website.
3)click on "menu" and click on "counseling" and then "support".
4)click on "student self – referral form" and complete the form.
5)submit form
This will put you in a "queue" to the Counselors and you will be called in . . . at a time that is convenient for both you and the Counselor in approximately the order in which you made the request. The more you can tell the Counselors in the referral, the better they will be prepared for your visit.
The ACT will administered here at Aurora High School on Saturday, April 4th. The regular registration deadline ($) is February 28th, and the late registration ($$) deadline is March 13th. Register at www.actstudent.org to reserve your spot.
The following representatives are scheduled for a upcoming lunch visits here at AHS:

Monday, February 10th - Missouri Western State University
Thursday, February 13th - Pittsburg State University
Thursday, February 27th - University of Missouri
Wednesday, March 4th - Drury (Monett Campus)
Monday, March 7th - OTC
Information about the following scholarships/essay contests/workshops /open houses are starting to be available in the Counselor's Office. Below is what's posted so far. Please check back often!
National Co-op - 2/15
Project 21 (MO Gaming Commission) - 3/1
MAMIC (Insurance) - 3/2
Educational Community Credit Union - 3/6
Rural Electric Youth Tour (Summer program for juniors) - 3/6
Aurora Community Theatre Memorial - 3/9
Burney Memorial - 3/10
E.Cook Memorial - 3/11
Houn' Dawg - 3/12
Ozark Electric Cooperative Inc. - 3/13
MFA Foundation - 3/13
J & S Cook Memorial - 3/13
Christodoulou Memorial - 3/13
AITP of the Ozarks - 3/15
Alternative Education - 3/15
Camp Arrowhead Staff - 3/15
Arnhart-Jones Memorial - 3/15
J.C. Carr Memorial - 3/15
SW Cattlemen's Association - 3/15
Community Foundation (YEP) Memorial - 3/15
Crafton Memorial - 3/15
EFCO Sales Rep - 3/15
Gravelin - 3/15
B.King Memorial - 3/15
Linden-Hayes Memorial - 3/15
Mais Memorial - 3/15
Orthopedic Nurses - 3/15
Resource Conservation & Development - 3/15
Sickles Memorial - 3/15
Straus Memorial - 3/15
Struck Memorial - 3/15
Tesar Memorial - 3/15
Thomason (Autism) - 3/15
Umlauf Memorial - 3/15
Braxton Rethwisch - 3/16
Hospital Auxiliary - 3/19
Morris Memorial - 3/19
Lane Memorial - 3/19
J. A. Carr Memorial - 3/19
Stringer Memorial - 3/19
Wolfe Memorial (Junior League of Springfield) - 3/23
MO Society of Professional Engineers - 3/27
Mattress Nerd's Sustainability - 4/1
Estep Memorial - 4/1
Save a Life (American Academy of CPR and First Aid) - 5/31
UPCOMING EVENTS CALENDAR
Monday, February 10th
Girls BBall vs Mt. Vernon
Tuesday, February 11th
Boys BBall vs Springfield Catholic
NHS Convoy Of Hope
Blood Drive
Wednesday, February 12th
GO CAPS
Thursday, February 13th
Father/Daughter Dance 6-8pm
Friday, February 14th
Jazz Band @ Carl Junction (Tentatively)
Boys BBall @ Reeds Spring
Speech/Debate - Joplin Tournament
Saturday, February 15th
Booster Club Fish Fry
Speech/Debate - Joplin Tournament
National FFA Week
Monday, February 17th
Girls BBall Big 8 Crossover 6pm
Tuesday, February 18th
Boys BBall Big 8 Showdown
Wednesday, February 19th
Spanish AP & 3 - Dolly Exhibit 7:15am - 5:30pm
Thursday, February 20th
Girls BBall vs Catholic 6pm
Student Directed One Act Auditions
Area Xl Banquet - Cassville 6pm
Friday, February 21st
Jostens Sophomore Class Ring Information Day 8:45 am - 12:30 pm
Speech/Debate Big 8 Tournament @ Logan Rogersville
Home Coming
Boys BBall vs Cassville
Saturday, February 22nd
University of Arkansas CDE's
Youth Basketball Tournament
Speech/Debate Big 8 Tournament @ Logan Rogersville
Wednesday, February 26th
Social Studies - Jack Henry Field Trip 8:05 - 11am
Science Club - Crowder Engineering Day
Thursday, February 27th
Paddle Party
Friday, February 28th
Jostens Sophomore Class Ring Order Day (During Lunch)
Speech/Debate - Neosho Tournament
Saturday, February 29th
Eldon CDE 5am
Speech/Debate - Neosho Tournament