EDIT MAIN
Announcements

The following individuals were selected as october Students of the Month
Freshman - Logan Rysted (not pictured) Kaylinn Dutton
Sophomore - Axel Merriman
Junior - Chloe Swadley
Senior - Sierra Krantz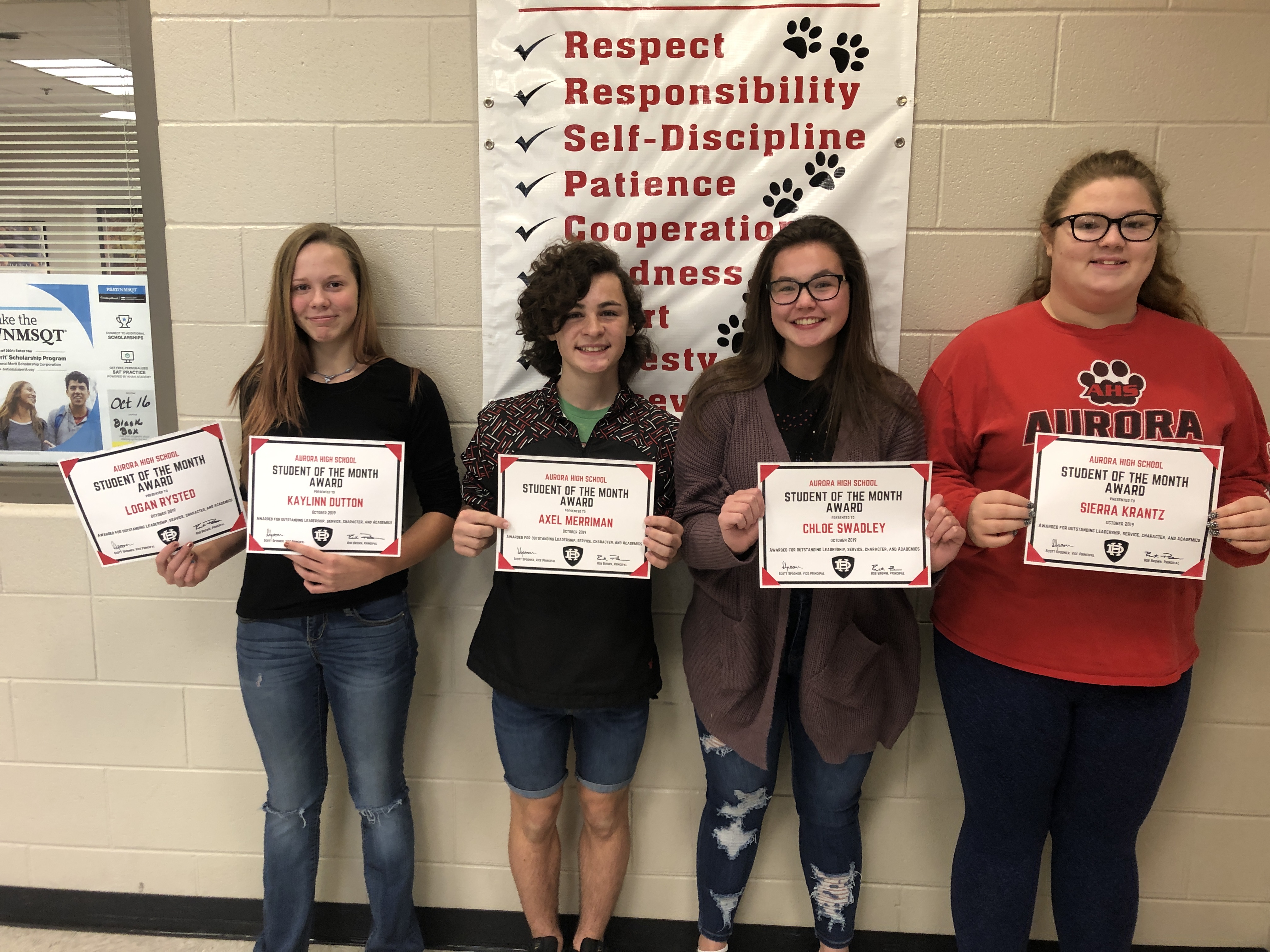 Congratulations to Mrs. floreZ and brenden hall for having perfect attendance in the month of october!
Blue Barrel Project
this is a program to give back to our kids and our community! This project will be held on a monthly basis and each month we will be accepting a different type of donation (see attached list). We hope that this will show our kids and community that giving back within our schools, as well as within our community is very important.
It's time to begin a different donation for the month of November! This month's theme is "No Hunger November" which means we will be collecting non-perishable food items that will be donated to the local Harvest Church Community Food Pantry.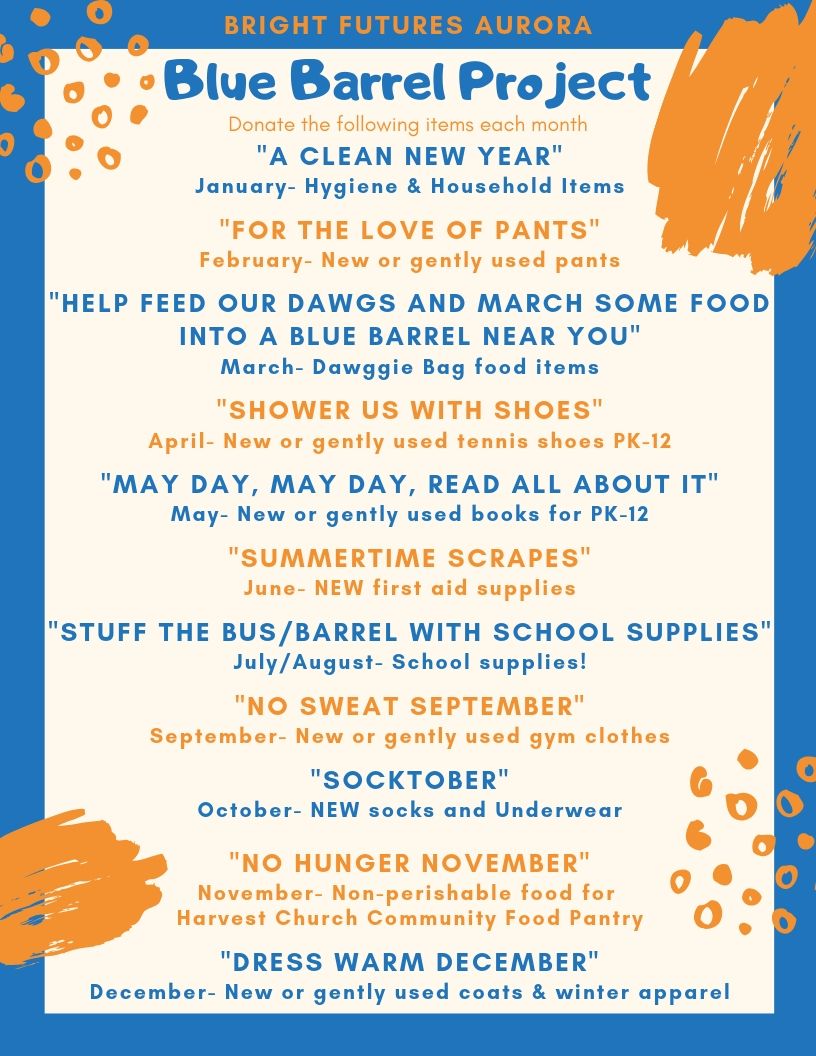 NHS
NHS t-shirts with this year's design are for sale--two small, two medium, and one large. Shirts are $12 and must be paid for to claim. Stop by Mrs. Garoutte's room, 306, to purchase.
NHS Christmas Tree: Three to five members are needed to assemble and decorate the Christmas Tree on Monday, December 2, during Homeroom or after school. Please sign-up in room 306. This is an NHS sponsored activity.
The OACAC Head Start Book Drive begins on November 20 with deadline of December 12 (no late books will be accepted). Please bring gently used and new picture books (no chapter books, please!!!) in both English and Spanish which will be given as Christmas presents to preschool children to Mrs. Garoutte's room, 306. Members get 10 minutes for each used picture book and 20 minutes for each new picture book donated. We also need two members to deliver the books on Friday, December 13, at 12:30 PM. Please sign up in my room, 306. This is an NHS Sponsored Activity.
Community Service: Completed community service forms with a minimum of 5 hours, with at least one hour from an NHS sponsored activity, are due to Mrs. Garoutte by Friday, December 13, at 12:15 PM. Please let me know if you have questions about what qualifies. Please pick up forms in room 306 as needed.
Paddle Party
The Rotary paddle party has been changed to thursday, december 12th



Miss holly
the 2019 Miss Holly & Junior Miss Holly will be held at pate on Saturday, November 23rd at 6pm
Contestant must reside in Lawrence, Barry and Stone County or be the daughter of an Aurora High School Alumni Grad.
Contestants must be in grades 7-12
there will be a $30 Business Sponsor entry fee. If you are unable to find a business sponsor the Aurora Chamber of Commerce will help you find one
Winner must be able to attend the Christmas Lighting Ceremony on Nov 27th & Aurora Christmas Parade December 14, 2019
Admission is $2 adults and $1 for kids 12 and under. There will be a People's Choice and Miss Congeniality Award. People's choice is $1 per vote Miss Congeniality will be chosen by your peers - each contestant will be allowed 1 vote
FCCLA
We are hosting a November contest for FCCLA. Each day, we will post a family table
topic and talk with your family at dinner time.
Take a picture and post it onto Hs.fccla Instagram with the hashtag - #ahsfamilytable
At the end of the month, we will be doing some drawings that will be using the names of the
participants from the contest. There are 4 categories for the drawings - the people who have
posted 5 pictures will be put in a drawing for $5, the people who have posted 10 pictures will be
put in a drawing for $10, the people who have posted 15 pictures will be put in a drawing for
$25, the people who have posted 20+ pictures will be put in a drawing for $50.
Health Services
This is a reminder student should not be sent to school sick. They are unable to learn well when they are feeling ill. If your child has a temperature of a 100 degrees or greater, vomiting, or diarrhea, he/she should stay at home until these symptoms have not occurred for 24 hours or otherwise approved by the school nurse.
A student who becomes ill or needs medical attention must report to the nurse's office for evaluation. If necessary, parents will be contacted and will be responsible for transportation if the student is sent home. STUDENTS WILL NOT BE ALLOWED TO LEAVE SCHOOL FOR AN ILLNESS UNLESS THEY HAVE VISITED THE NURSE'S OFFICE. Once it has been determined that a student needs to leave for medical reasons, they must sign out at that time in the office.
Parents and students, please help us with this task. We are not able to help students medically if the nurse is unaware of the medical situation at hand. Please talk with the nurse prior to coming to pick up your student.
REMEMBER....
If you are unable to have your sick child seen by your Primary Physician please remember the Cox Virtual Clinic that we now offer at the Aurora Schools. Cox hours currently are 8am-12pm. Below is an attached flyer with more information.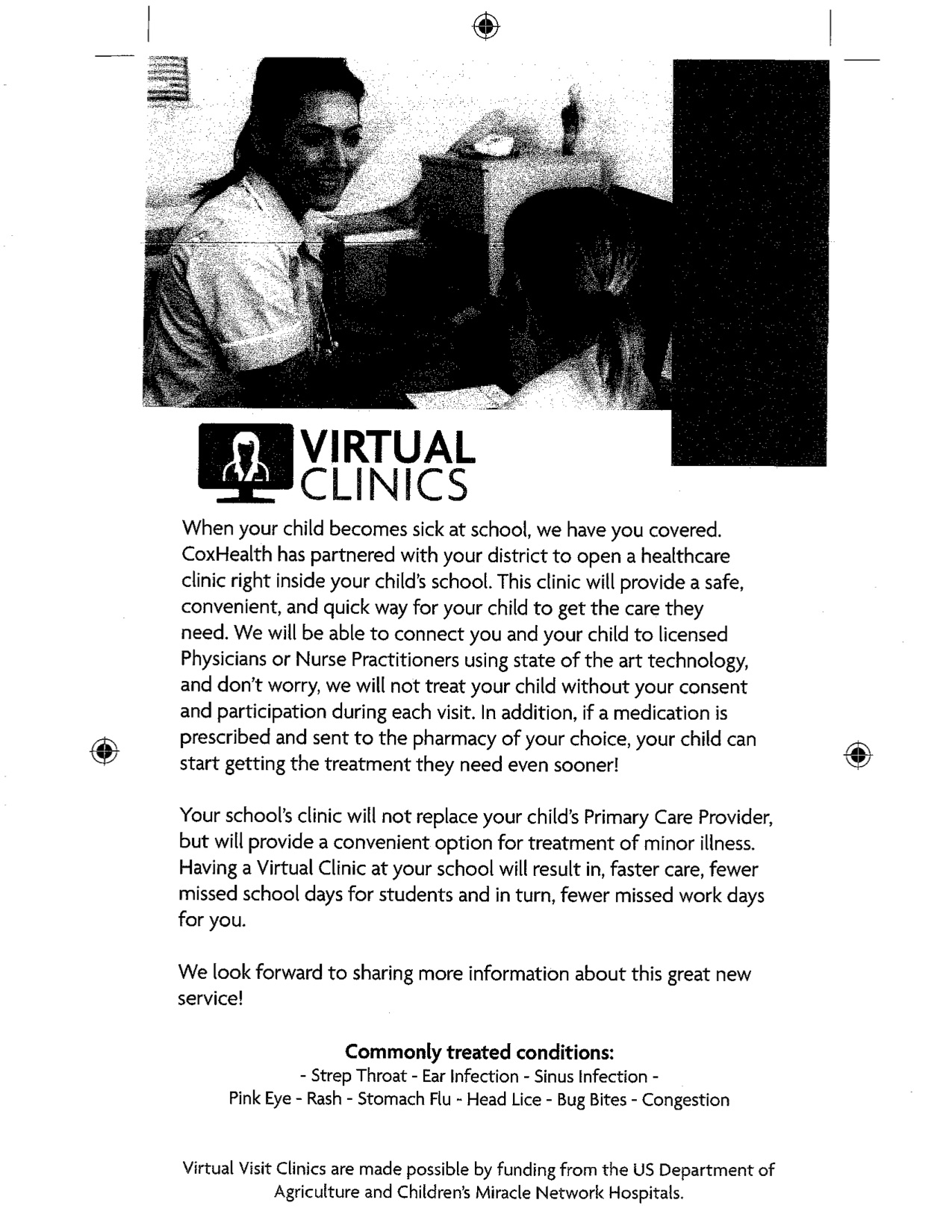 Students: second chance breakfast
This is just a reminder that breakfast is free; however, "Second Chance Breakfast" is only for you to get if you missed first breakfast. If you get more than one breakfast, your account will be charged.
Reminder: If your lunch balance falls below -$10.00 (negative ten dollars), your lunch account will have a block placed on it, and you will receive a sack lunch--this includes a sandwich, fruit, and milk--from the the cafeteria until your account is paid. If you have any questions or need to set up a payment plan, please feel free to contact Amy in the high school office, or you can email her at amyjones@aurorar8.org
Trauma-Informed Schools
This link includes information, links, and phone numbers for numerous agencies to assist students, parents, community members, and staff.
Counseling Office Announcements
Here's how to do an ONLINE (SELF) REFERRAL (which basically means you want to "sign up" to see one of the Counselors):
1)go to the school website www.aurorar8.org
2)click on the "sites" tab at the top, then click on "Aurora High School". You are now on the AHS page of the website.
3)click on "menu" and click on "counseling" and then "support".
4)click on "student self – referral form" and complete the form.
5)submit form
This will put you in a "queue" to the Counselors and you will be called in . . . at a time that is convenient for both you and the Counselor in approximately the order in which you made the request. The more you can tell the Counselors in the referral, the better they will be prepared for your visit.
The ASVAB will be administered to all juniors on Thursday, November 21st from 8:00 a.m. to 11:00 a.m.
The following representatives are scheduled for a upcoming lunch visits here at AHS:
Wednesday, December 4th - Drury Monett Campus
Information about the following scholarships/essay contests/workshops /open houses are starting to be available in the Counselor's Office. Below is what's posted so far. Please check back often!
YEP Leadership (Dual Credit) - 11/22
MSSDAR - 1/1
Bezos Family Foundation (summer program for juniors) - 1/31
CFO (Community Foundation of the Ozarks) Preview - multiple - deadlines vary
National Co-op - 2/15
Project 21 (MO Gaming Commission) - 3/1
Save a Life (American Academy of CPR and First Aid) - 5/31
UPCOMING EVENTS CALENDAR
Tuesday, November 19th
Senior FASFA Meeting
Pre ASVAB During Homeroom
Science Club Movie Night 6-9:30pm
Friday, November 22nd
Boys BBall Jamboree @ Monett - Night of Champions @ HS afterward

Saturday, November 23rd
Miss Holly @ Pate 6pm

Monday, November 25th - Friday, November 29th
NO SCHOOL

Monday, December 2nd
Boys BBall JV @ Nixa Tournament

Tuesday, December 3rd
Project Team Leadership Conferences (During Class)
Boys BBall @ McDonald County


Thursday, December 5th
A Cappella @ Olive Grille - 12pm
Winter Choir Concert 7:30pm


Friday, December 6th
All State Band Auditions @ Columbia
Speech/Debate - Cassville Tournament

Saturday, December 7th
All State Band Auditions @ Columbia
Area 11 Speaking Contest - McDonald County 4:30pm
Chapter Barnwarming 6-9pm

Sunday, December 8th
Jazz Band Winter Concert 1pm

Monday, December 9th
Academic Team @ Logan Rogersville
Boys BBall 9th @ Monett Tournament

Tuesday, December 10th
Ag Fruit Delivery 3:15 - 4pm
Girls BBall Game @ Bolivar 6pm
Boys BBall @ Home vs New Covenant

Wednesday, December 11th
Ag Fruit Delivery 3:15-4pm
Senior Composite Retakes

Thursday, December 12th
Ag Fruit Delivery 3:15-4pm
Blood Drive
Girls BBall @ Home vs Lamar 6pm
Holiday Showcase
Rotary Paddle Party

Friday, December 13th
Ag Fruit Delivery 3:15-4pm
Boys BBall @ Home vs Forsyth

Saturday, December 14th
Boys BBall @ North Arkansas College vs Berryville
FCCLA Winter Formal
Christmas Parade 2pm

Tuesday, December 17th
Boys BBall @ Hollister
Marching Band Uniform Turn In @ Jr. High 3:30-5:30pm

Wednesday, December 18th
Marching Band Uniform Turn In @ Jr. High 3:30-5:30pm

Thursday, December 19th
Girls BBall @ Home vs Rogersville 6pm

Friday, December 20th
Boys BBall @ Clever

Saturday, December 21st
Youth Basketball Tournament - Gym

Monday, December 23rd - Wednesday, January 1st
NO SCHOOL

Thursday, December 26th
Boys BBall Blue & Gold Tournament