EDIT MAIN
ANNOUNCEMENTS

MISS HOLLY PAGEANT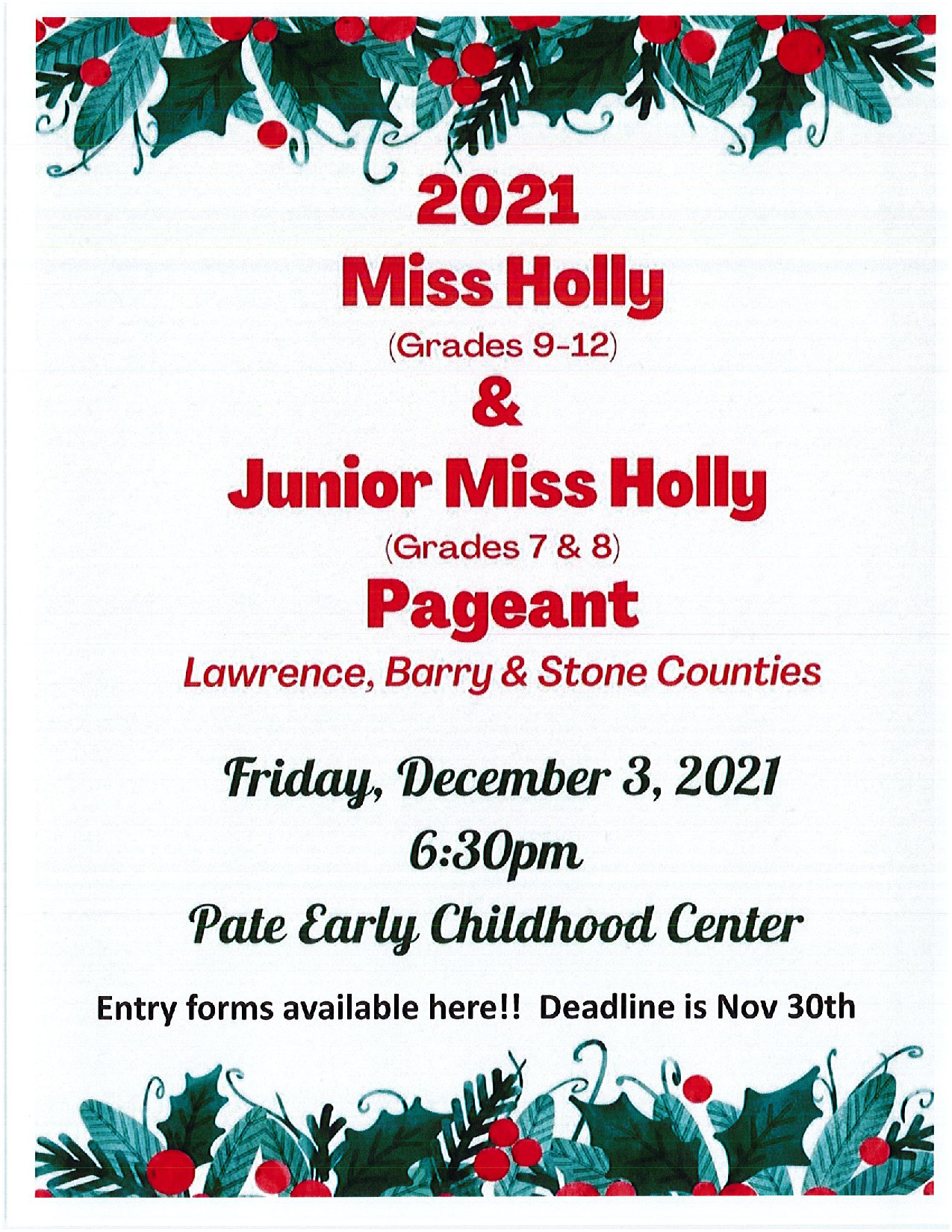 FCCLA
is selling pies for $11.00 as a benefit for BCFO. Delivery day on Tuesday, November 23rd.
CROSS COUNTRY BANQUET
is on Sunday, November 21st @ 2pm in Mrs. McClure's room.
CONGRATULATIONS
The AHS Speech/Debate team had a good showing at the Nixa Speech Tournament this past weekend, two of our seven competitors made it to finals and brought home trophies. Winning 6th place in Novice Dramatic Interp. was Caymen Cornelison. Winning 6th place in Novice Original Oratory was Emilee Coffey. Other team members in competition were Katherine Davis in varsity International Extemp; Jasmine Buchholz and Skyler Ross in Novice Original Oratory; Castle Spieker in Novice Informative Speaking and Carissa Simagna in novice Dramatic Interp. Congratulations on your wins.
REMINDERS
- The tablets in the front entry way are for students going to and coming from Online Edgenuity classes, Flex Work, A+, etc. Students signing in/out for other reasons need to do so on the tablet in the office.
- We are not an open campus school. No outside food is to be brought in during lunch. Students are not supposed to be signing out for lunch. Students who do will have a partial absence in their 4th hour class.
- All students signing out will need parent permission (a parent will need to call the office to give permission)
NHS
The National Honor Society Scholarship is now open. Deadline to submit your application is December 1. Please access the scholarship at https://www.nhs.us/students/the-nhs-scholarship/ Last year Elizabeth Martin won a scholarship for over $3,000. Let Mrs. Garoutte know if you have questions or need help.
The OACAC Head Start Book Drive begins on November 29 with deadline of December 14 (no late books will be accepted). Please bring gently used and new picture books (no chapter books, please!!!) in both English and Spanish, which will be given as Christmas presents to preschool children to Mrs. Garoutte's room, 306. Members get 10 minutes for each used picture book and 20 minutes for each new picture book donated. I also need two members to deliver the books on December 15. Please sign up in Room 306. Donations and delivery count toward NHS sponsored hours.
NHS Members: At least 5 hours of community service (with at least 1 NHS sponsored hour) must be documented on the Google Form by December 15. The form is available on the NHS Canvas page or in an email sent previously to members.
Aurora High School October students of the month.

Freshmen - Clayton Jaramillo, McKinzee Malott
Sophomores - Marisol Castillo, Wyatt Lawson
Juniors - Payden Blevins, Emily Gearhart
Senior - Mitchell Bayless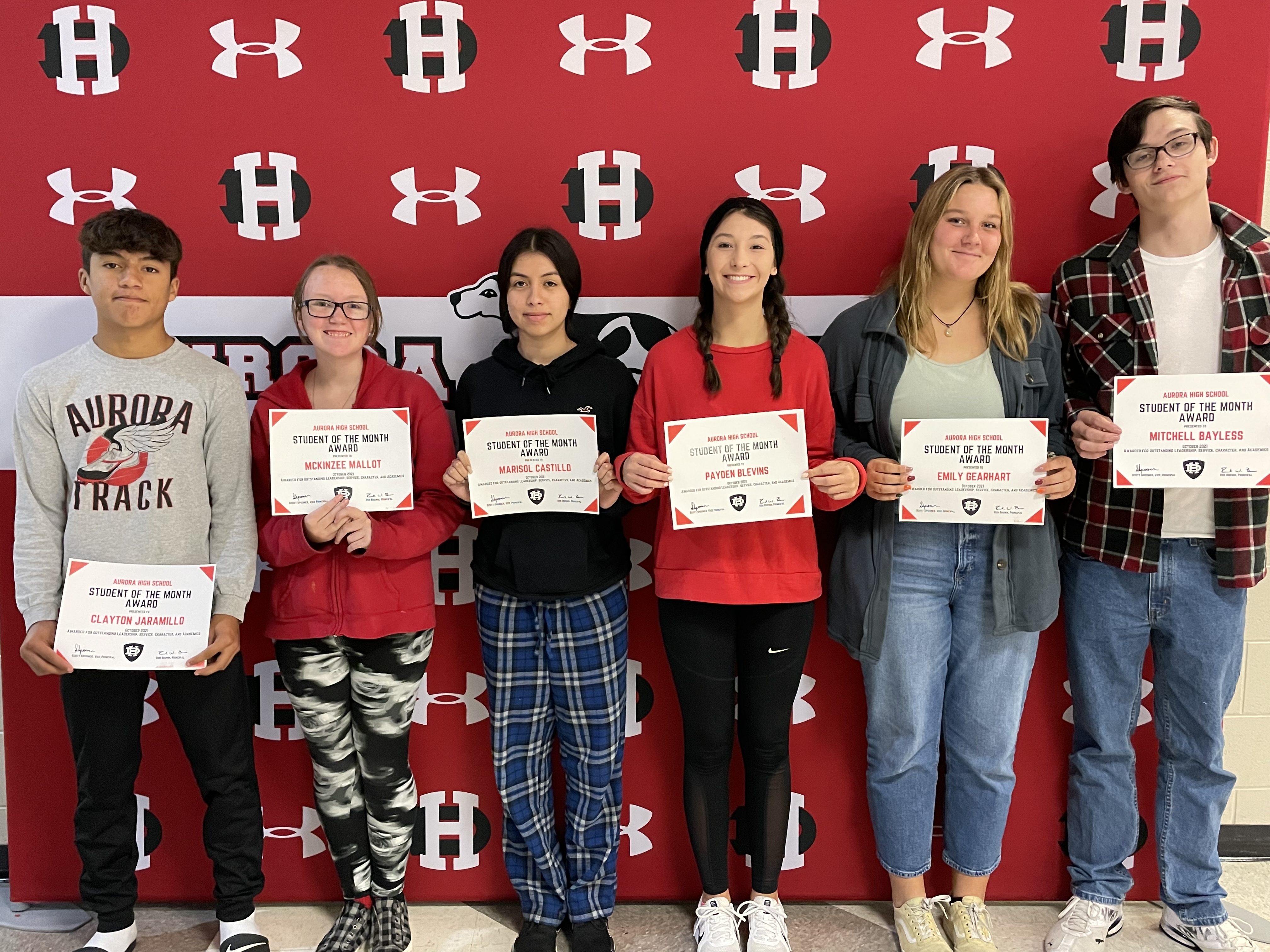 UPCOMING EVENTS CALENDAR
MONDAY, 11/22
MUSICAL PERFORMANCES 7PM
TUESDAY, 11/23
GIRLS BBALL @ HARTVILLE 6PM
MONDAY, 11/29
BOYS BBALL MONETT FRESHMAN TOURNAMENT
GIRLS BBALL MARSHFIELD JV TOURNAMENT
TUESDAY, 11/30
BOYS BBALL @ CAMDENTON 5PM
COUNSELING OFFICE ANNOUNCEMENTS
HERE'S HOW TO LOOK UP YOUR CURRENT GPA
Here's how you can see your current GPA at any time. (Keep in mind that it can change at the end of each semester, once all grades are in.)
1.Go to school website www.aurorar8.org
2.Click on sites at the top of the screen and pull down High School
3. Click on "menu", then student/parent links
4.Click on "Tyler SIS"
5.Click on the "student" tab
6.Your username is your lunch pin
7.If you don't know your password, click on the link and follow instructions
8.Once you are on the site go to "Academic History" and your GPA "unweighted and weighted" will appear near the top toward the right
9.To convert the 11 point scale to the 4 point scale, just divide by 11 and multiply times 4.
10.Any question ask your counselor
HERE'S HOW TO DO AN ONLINE (SELF) REFERRAL (WHICH BASICALLY MEANS YOU WANT TO "SIGN UP" TO SEE ONE OF THE COUNSELORS):
1)go to the school website www.aurorar8.org
2)click on the "sites" tab at the top, then click on "Aurora High School". You are now on the AHS page of the website.
3)click on "menu" and click on "counseling" and then "support".
4)click on "student self – referral form" and complete the form.
5)submit form
This will put you in a "queue" to the Counselors and you will be called in . . . at a time that is convenient for both you and the Counselor in approximately the order in which you made the request. The more you can tell the Counselors in the referral, the better they will be prepared for your visit.