EDIT MAIN
Announcements

The following individuals were selected as August Students of the Month
Freshman - Tony G.
Sophomore - Bailey A. (not pictured)
Junior - Riley P.
Senior - Connor S.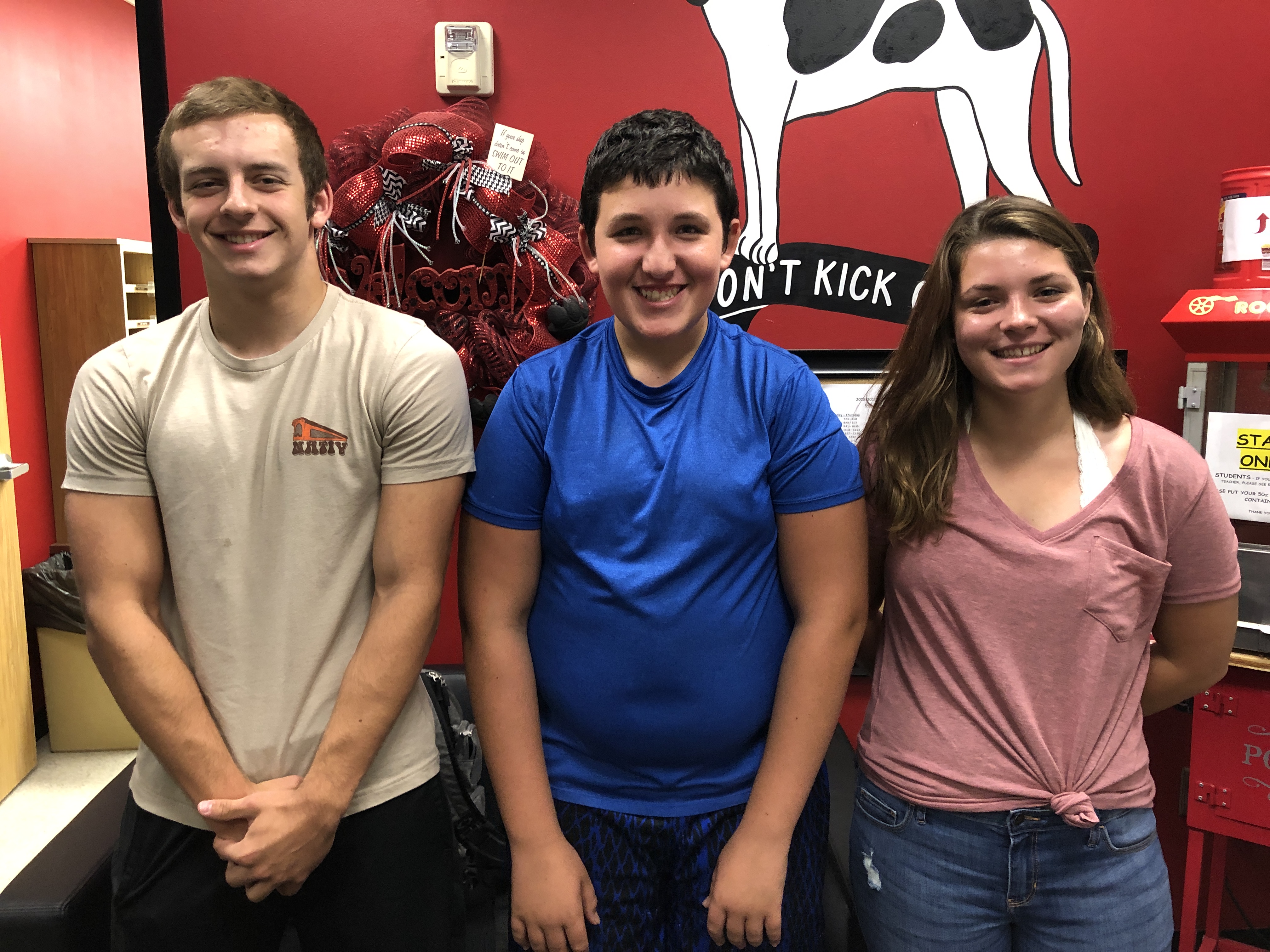 Perfect attendance awards
Teacher - Mrs Fieker
Student- Daniel Smith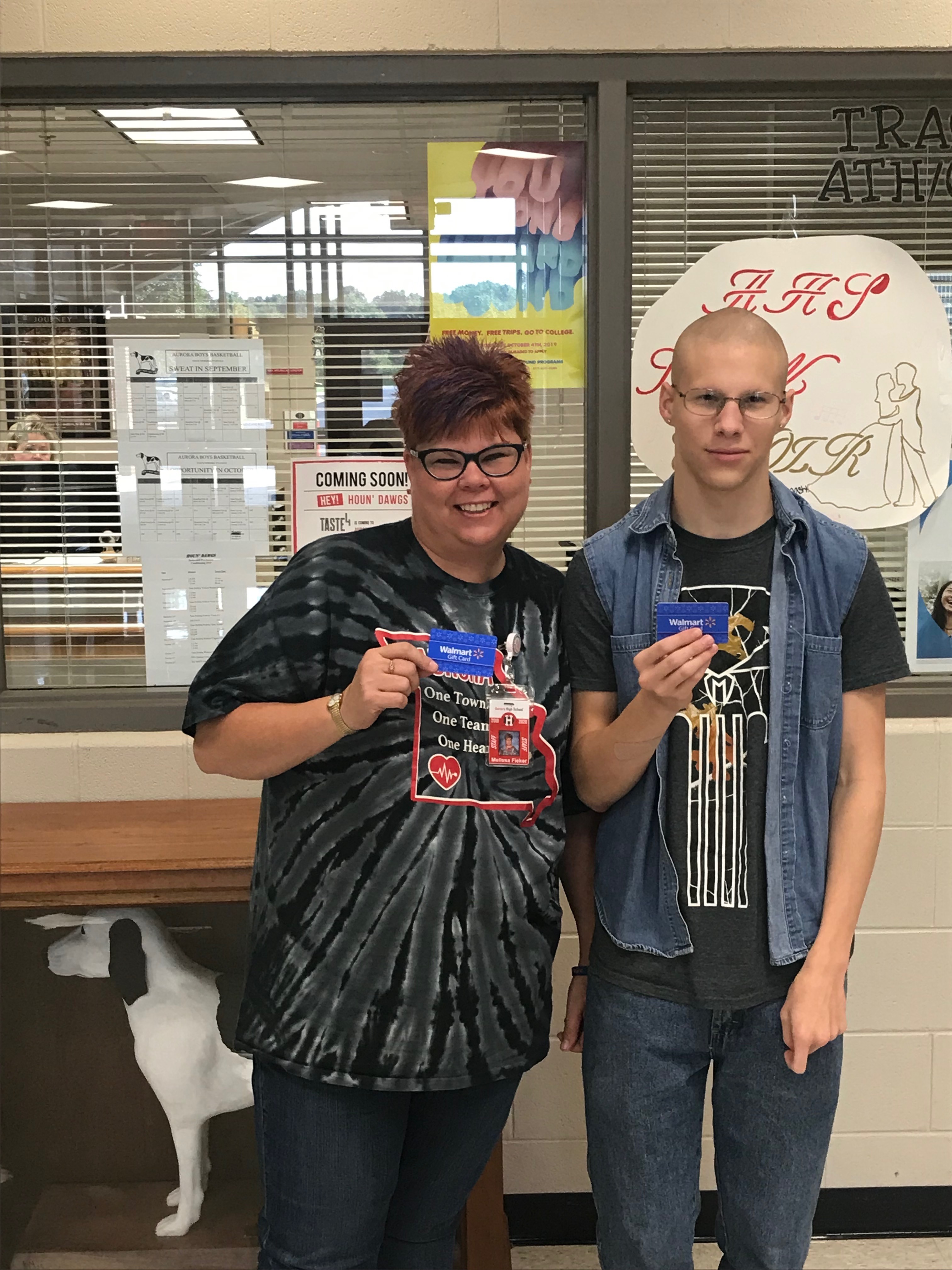 FCCLA
FCCLA Trip to Silver Dollar City will take place on Wednesday, September 18th. Students need to be in the FACs room at 7:40 am for a short meeting and they will receive their shirts and instructions before boarding the bus.

Mercy
Mercy Medical Explorers invites you to join our clinical observation/interacting program at Mercy Hospital Springfield, MO.
We will be having an orientation night on September 24th at 5:00 PM. Please plan to attend J
The attachment has how to apply and information about the program. If you have any questions, please contact us.
Respectfully
Alan and Karen
Alan Dixon
Senior Recruiter
Mercy Health
1235 E. Cherokee
Springfield, Missouri 65804
P-417-820-3070
F-417-820-7799
Mercy is a four-time Watson Health Top 15 Health System (2016-2019)
Mark your calendar for October 10th, 2019 as Mercy, Freeman Health System, Missouri Job Centers, Franklin Technology Center, Carthage Technical Center, The Workforce Investment Board of Southwest Missouri and others will be hosting the region's 2nd Annual Healthcare Career EXPO & Hiring Event at MSSU's Leggett & Platt Athletic Center.
There are three (3) morning sessions (detailed on the registration page), that will feature exhibits and HANDS-ON demonstrations from local employers & educators. The Healthcare Career EXPO will be followed immediately by a hiring and resource event in the afternoon to connect interested students & the general public (last session only) with hiring employers in the industry.
BRAND NEW: Students will have a chance to win one (1) of two (2) scholarships to MSSU!!!
Engagement will be the key to amazing information, chances to win door prizes and a SCHOLARSHIP!!! This event is perfect for students already interested in the healthcare industry, but also students that haven't made up their mind. They just might see something at this event that could help shape the rest of their lives! We hope you will give many students the opportunity to experience the region's PREMIERE Healthcare Career EXPO & Hiring Event!!
If you are sending students on buses, please register your students on the first 3 sessions – if you only have a few students coming, and they may be transporting themselves – please use the final session for those students. Thank you.
More information can be found at www.sectorready.org/hce
Schools and Employers can REGISTER now, please use the following links when inviting either schools or employers:
Schools: http://events.constantcontact.com/register/event?llr=94pwzdfab&oeidk=a07egexu2vq302655dc
Employers: http://events.constantcontact.com/register/event?llr=94pwzdfab&oeidk=a07egexunfh71c65595
DRAMA
On Thursday, September 19th, auditions for this year's musical, 'Annie' will take place after school in the choir room. Anyone interested in auditioning needs to stop by Mrs. Blackburn's room, Rm 325 and pick up an application. Applications need to be completed and turned in by 8 am on September 19th. All requirements for the auditions are listed on the back of the application form.
STUCO/YEP
The $15 membership dues for STUCO/YEP are due any time during the month of September. The membership fee also makes students eligible for the Fall/Spring cycles of local YEP dual credit scholarships application process. Send dues to Mrs. Mobley/Room 102 or place envelopes in her mailbox.





Spanish club
$20.00 fees are due by the end of September and our first formal meeting will be announced at the end of September.





Cheer
The AHS Cheerleaders, in conjunction with the MVHS Cheerleaders, are selling Bell Bowl shirts for the game on Sept. 27. You may pick up an order form from Mrs. Fieker or the counselors office starting today. Please include payment with your order. Go DAWGS!





nhs
NHS members will create posters for Hello Week. Meet in Mrs. Garoutte's room, 306, during Homeroom beginning Monday, September 16 through Thursday, September 19 to create the posters (you can come every day or as much as you can). Hanging of posters will be done on Friday, September 20 during Homeroom.

HS Members: Fifteen volunteers are needed to work the face painting booth at the Robinson Intermediate/Elementary Fall Festival on Thursday, October 10, from 5-6:30 PM (You will need to arrive 10 minutes early to prepare). Please sign-up in my room, 306, by Friday, September 13, at 12:15 PM ONLY IF YOU ARE SURE YOU HAVE NO CONFLICTS. This is an NHS sponsored activity.
NHS Members: Volunteers are needed to work the Pink Ribbon Rally at Hulston Cancer Center in Springfield on Saturday, October 12, from 8:30 AM to 1:00 PM. You will need to provide your own transportation to the rally. Please sign-up in room 306 by Wednesday, September 18. Please include your t-shirt size as the organizers will be providing these for you. Only sign-up if you have no other commitments on this day. This is an NHS sponsored activity.
NHS Sponsored Community Service: We will volunteer at Convoy of Hope on the following dates: September 24, October 29, November 12, February 11, March 10, and April 7. We will leave at 4:00 PM, eat dinner at the mall, and return by 9:30 PM. If you did not volunteer in the spring semester, you will need to pick up a permission slip in room 306.
NHS Officer Applications must be submitted by Friday, September 6, at 12:15 PM. Position Declaration page and three reference forms (two from teachers, coaches, or staff and one from an NHS member) must be completed for consideration. Pick-up applications in room 306.





TASTE 4
Something new has arrived at Aurora High School!! Its the next generation of High School Dining!!! TASTE4 by Sodexo!! For the month of August we will be celebrating the culture and cuisine of Mexico with dishes such as: Green Chili Chicken with Cilantro Lime Crema, or Pico Ranch Sause. We also have an adventure station that will change weekly! Our first week back students will enjoy Chopsticks AT our asian inspIration station. next week the adventure station is called 'STRUTTERS' - we will have chicken tenders, pesto roasted chicken, mashed potatoes, biscuits, and waffles. Check us out in the Cafeteria and welcome to the new dining experience for Aurora High Students. VIEW THE LUNCH MENU ON OUR DISTRICT WEBSITE OR DOWNLOAD THE APP 'SO HAPPY'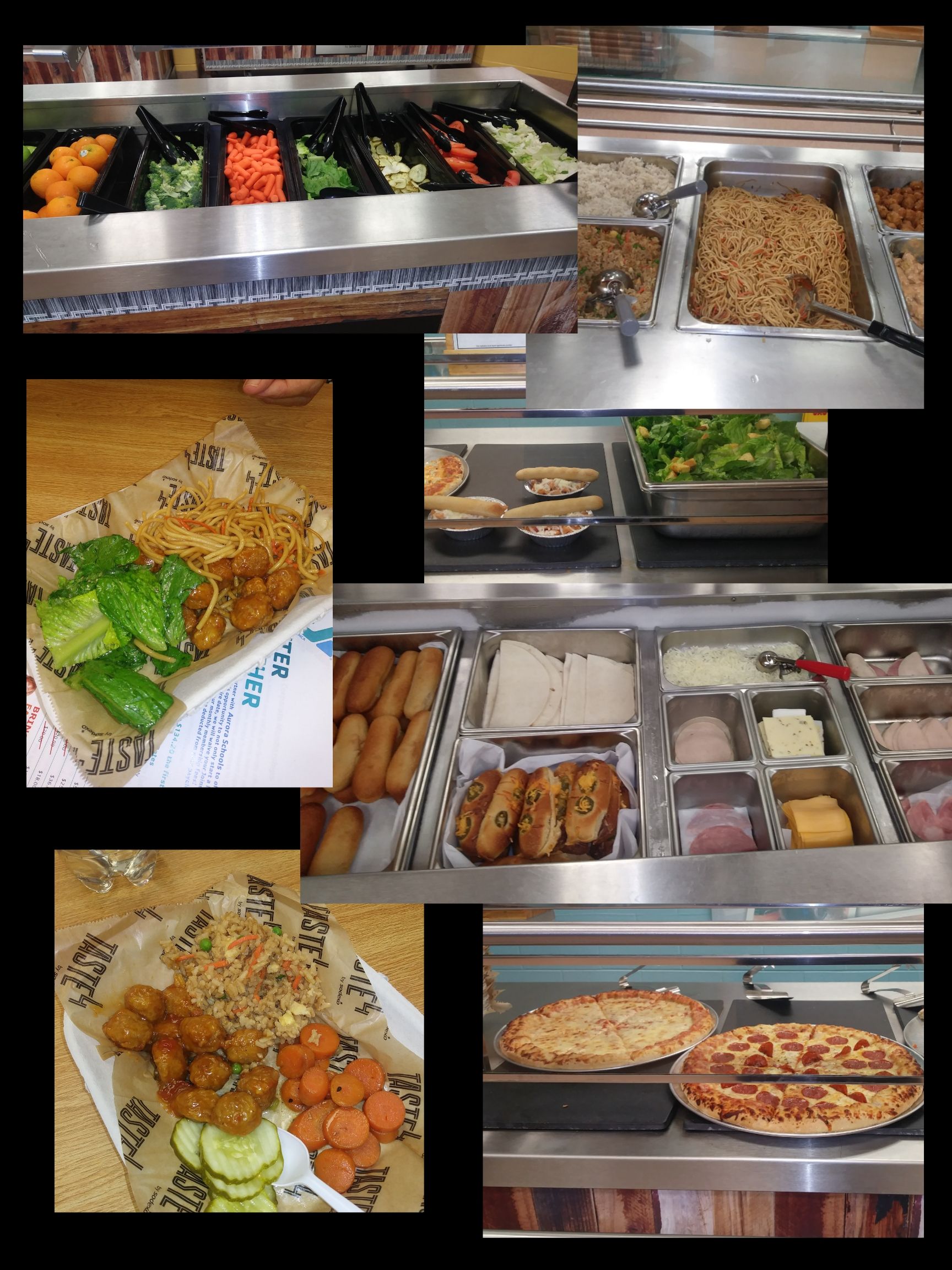 Health Services
This is a reminder student should not be sent to school sick. They are unable to learn well when they are feeling ill. If your child has a temperature of a 100 degrees or greater, vomiting, or diarrhea, he/she should stay at home until these symptoms have not occurred for 24 hours or otherwise approved by the school nurse.
A student who becomes ill or needs medical attention must report to the nurse's office for evaluation. If necessary, parents will be contacted and will be responsible for transportation if the student is sent home. STUDENTS WILL NOT BE ALLOWED TO LEAVE SCHOOL FOR AN ILLNESS UNLESS THEY HAVE VISITED THE NURSE'S OFFICE. Once it has been determined that a student needs to leave for medical reasons, they must sign out at that time in the office.
Parents and students, please help us with this task. We are not able to help students medically if the nurse is unaware of the medical situation at hand. Please talk with the nurse prior to coming to pick up your student.
REMEMBER....
If you are unable to have your sick child seen by your Primary Physician please remember the Cox Virtual Clinic that we now offer at the Aurora Schools. Cox hours currently are 8am-12pm. Below is an attached flyer with more information.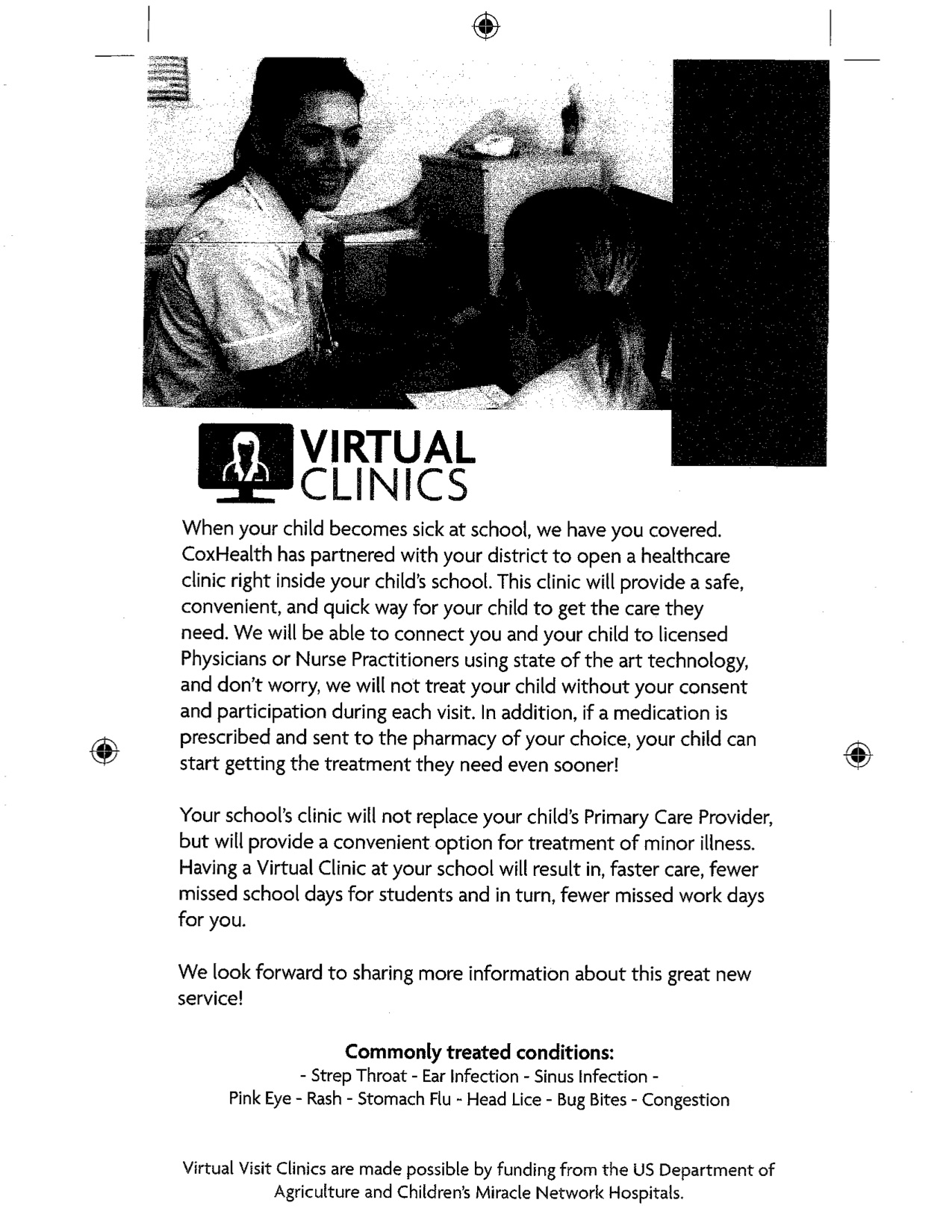 Students: second chance breakfast
This is just a reminder that breakfast is free; however, "Second Chance Breakfast" is only for you to get if you missed first breakfast. If you get more than one breakfast, your account will be charged.
Click on this link to access the lunch menu.
Reminder: If your lunch balance falls below -$10.00 (negative ten dollars), your lunch account will have a block placed on it, and you will receive a sack lunch--this includes a sandwich, fruit, and milk--from the the cafeteria until your account is paid. If you have any questions, please feel free to contact Amy in the high school office, or you can email her at amyjones@aurorar8.org
Trauma-Informed Schools
This link includes information, links, and phone numbers for numerous agencies to assist students, parents, community members, and staff.
Counseling Office Announcements
Here's how to do an ONLINE (SELF) REFERRAL (which basically means you want to "sign up" to see one of the Counselors):
1)go to the school website www.aurorar8.org
2)click on the "sites" tab at the top, then click on "Aurora High School". You are now on the AHS page of the website.
3)click on "menu" and click on "counseling" and then "support".
4)click on "student self – referral form" and complete the form.
5)submit form
This will put you in a "queue" to the Counselors and you will be called in . . . at a time that is convenient for both you and the Counselor in approximately the order in which you made the request. The more you can tell the Counselors in the referral, the better they will be prepared for your visit.
The following representatives are scheduled for a upcoming lunch visits here at AHS:
Thursday, September 12th - Drury University
Thursday, September 12th - Upward Bound (freshman homeroom)
Monday, September 16th - Columbia College
Tuesday, September 17th - Crowder College (Cassville campus)
Wednesday, September 19th - Army
Wednesday, October 2nd - Drury Monett campus
Monday, October 7th - National Guard
Thursday, October 17th - Pittsburg State University
Wednesday, October 23rd - Central Methodist University
Tuesday, November 5th - Ranken Technical College
Wednesday, December 6th - Drury Monett Campus
Information about the following scholarships/essay contests/workshops /open houses are starting to be available in the Counselor's Office. Below is what's posted so far. Please check back often!
National Co-op - 2/15
UPCOMING EVENTS CALENDAR

Monday, September 16th
Columbia College (lunch visit)
Volleyball @ Home VS Joplin 5pm
Tennis @ Home VS College Heights 4:30pm
Boys Soccer @ Monett 4:30pm
Softball @ Home VS Branson 4:30pm

Tuesday, September 17th
Crowder College (Cassville Campus ) lunch visit
Ag Area Motivational Conference - Crowder College
Cross Country @ Monett 4pm
Tennis @ Home VS Mt. Vernon 4:30pm
Softball @ East Newton 4:30pm
Volleyball @ Home VS Strafford 5pm

Wednesday, September 18th
Army (lunch visit)
FBLA Silver Dollar City 8am-5pm
Tennis @ Monett Tournament 4:30pm

Thursday, September 19th
Blood Drive
Drama Production Auditions
Area 11 Barn Warming 6-9pm McDonald County
Volleyball @ East Newton 6pm
Boys Soccer @ Home VS Neosho 4:30pm
Cross Country @ Hollister

Friday, September 20th
Varsity Football @ Home VS Logan Rogersville 7pm
Tennis @ Clever 4:30pm
Softball Tournament @ Branson
Saturday, September 21st
Marching Band Competition @ Carl Junction
Booster Club Show Clinic
Softball Tournament @ Branson

Monday, September 23rd
Tennis @ Monett 4:30pm
Boys Soccer @ Logan Rogersville 4:30pm
Softball @ Home VS Marshfield 4:30pm

Tuesday, September 24th
Boys Soccer @ Home VS Bolivar 4:30pm
Softball @ Home VS Reeds Spring 4:30pm
NHS Convoy of Hope 4-9:30pm
Wednesday, September 25th
ALFA Program 7:30am-3pm - Pate
Adopt A Highway 60 Cleanup 12-1pm

Thursday, September 26th
Volleyball @ Seneca 5pm
Tennis @ Thomas Jefferson 4:30pm
Softball @ Bolivar 4:30pm
Friday, September 27th
Varsity Football @ Mt. Vernon 7pm
Tennis Tournament @ Nixa 4:30pm
Boys Soccer @ Home VS SGF Parkview 4:40pm
Saturday, September 28th
Marching Band Competition @ Mt. Vernon
Volleyball Tournament @ Carl Junction & Cassville C Tournament
Cross Country @ Columbia 9am
Softball @ Nixa - Halfway Doubleheader 10am

Sunday, September 29th
Homecoming Bonfire

Monday, September 30th
Volleyball @ Home VS Monett 5pm