EDIT MAIN
Announcements

The following individuals were selected as september Students of the Month
Freshman - Gabe Grace
Sophomore - Kohl Rohlman
Junior - Jacob Lawrence
Senior - Duncan Waltrip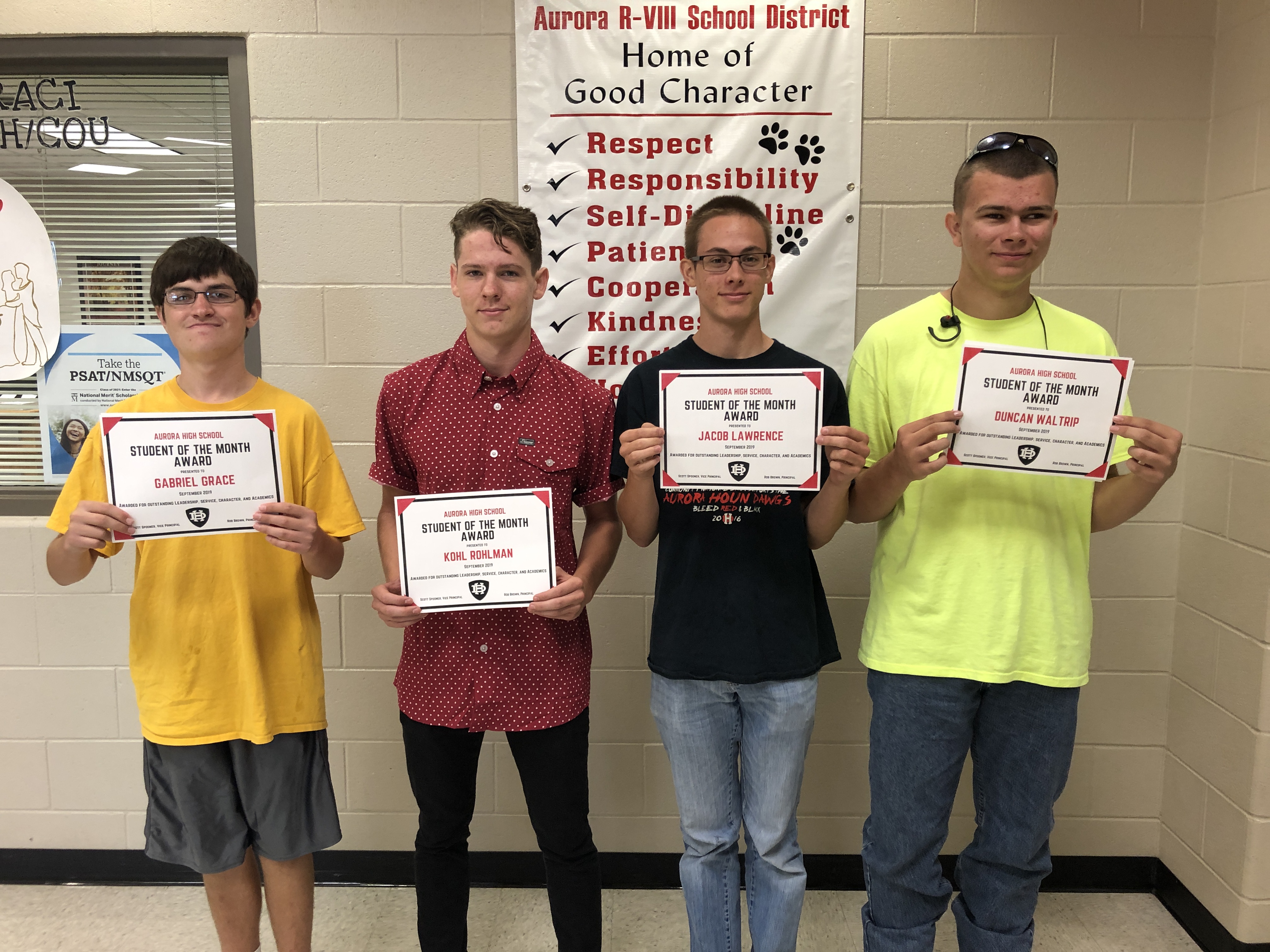 congratulations to mr. bigler and aiden hooper for having perfect attendance!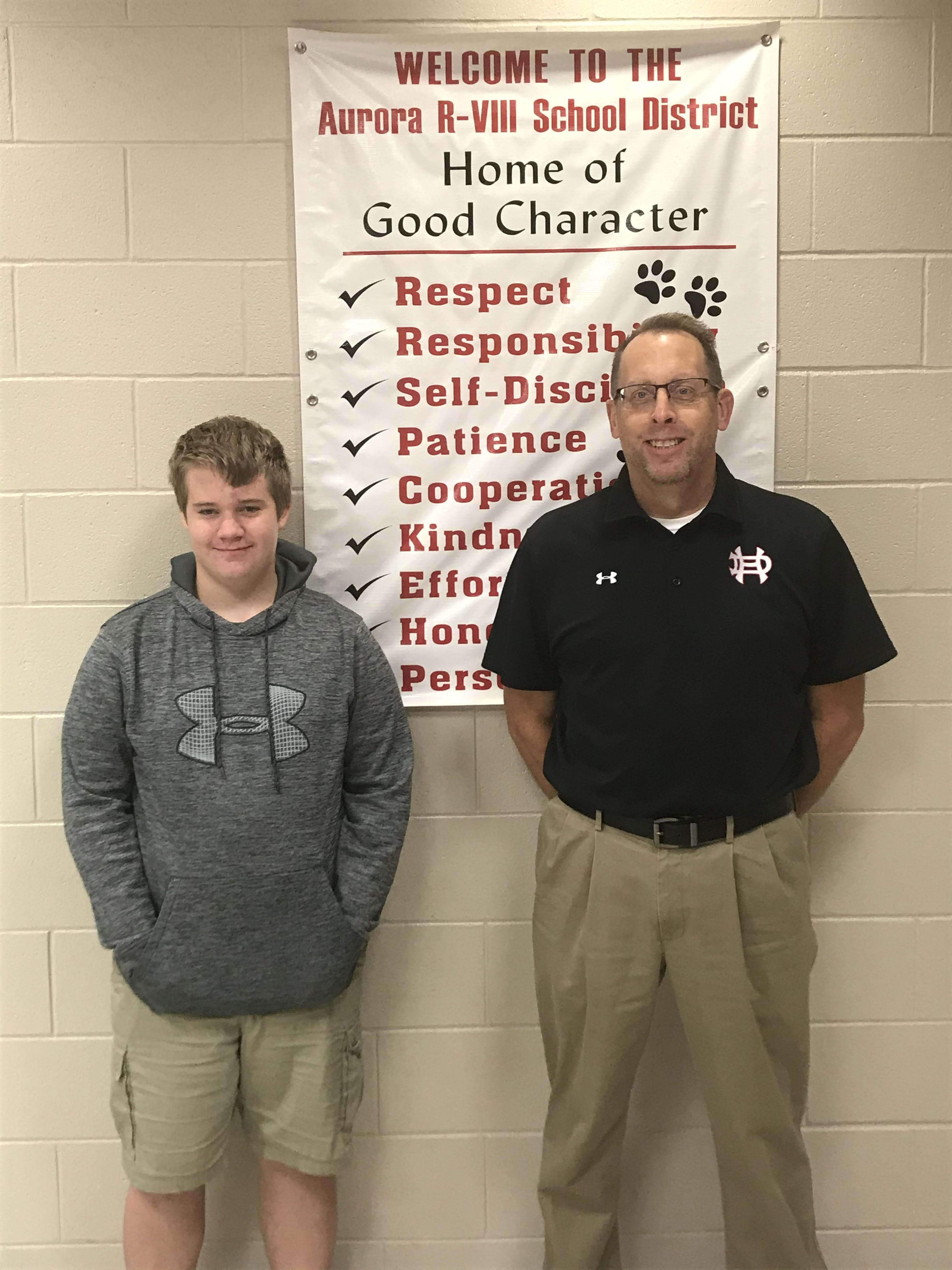 Blue Barrel Project
this is a program to give back to our kids and our community! This project will be held on a monthly basis and each month we will be accepting a different type of donation (see attached list). We hope that this will show our kids and community that giving back within our schools, as well as within our community is very important.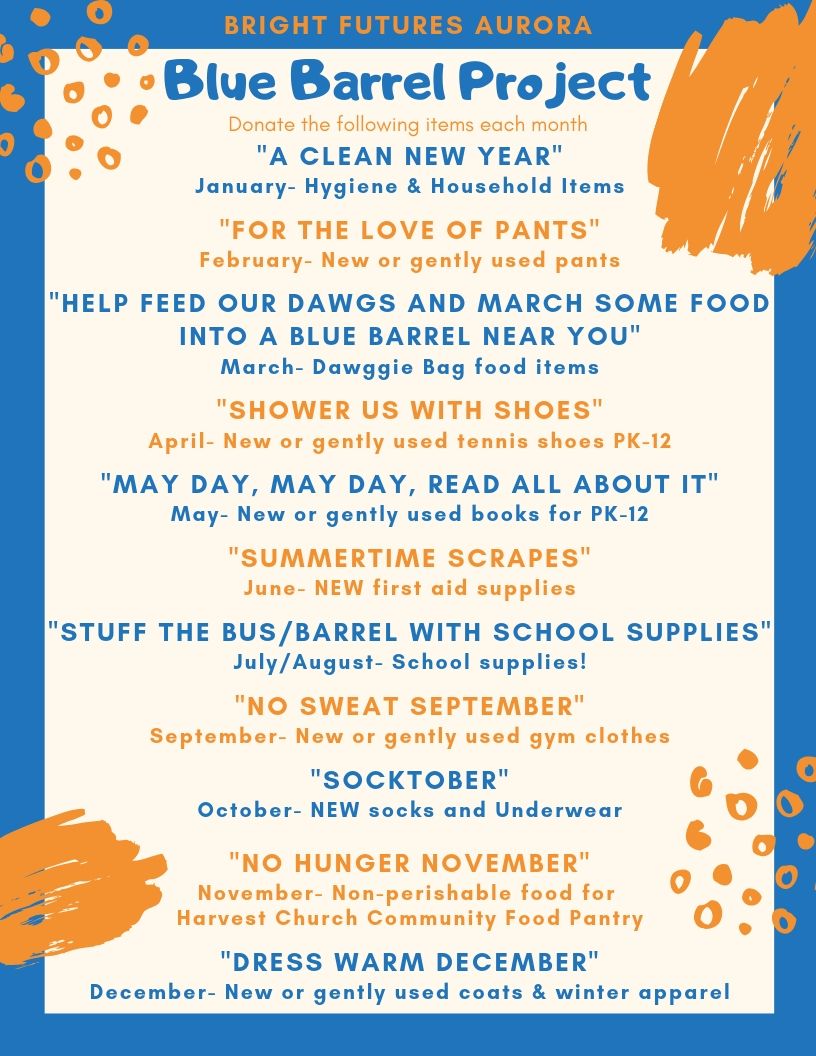 fbla
there will be an fbla meeting on thursday, 10/24, during homeroom.
act
An ACT Bootcamp will be held Saturday November 9 and November 23 from 8:00-Noon each day. This valuable experience will be offered at no cost to students.
Our goal is to give you some test taking strategies and insight to the test so that you can perform well and/or raise your score prior to the December 14 ACT Test.
Please email mrs. manuel to sign up for/Confirm your spot for this opportunity.
nhs
NHS Members: Volunteers are needed to hide books for Pate Look 4 a Book on Friday, October 25. Meet in the Commons immediately after 5th Hour (8:50 AM) to board the bus. We should be back no later 10 AM. Sign-up in room, 306, by Tuesday, October 22. This is an NHS sponsored activity.
Convoy of Hope: We will volunteer at Hands of Hope on Tuesday, October 29, leaving the school at 4 PM and returning around 9:30 PM. We will eat before volunteering; please bring money. Please sign-up by Friday, October 25, in Mrs. Garoutte's room, 306. Sign-up only if you are sure you will attend. If you have not volunteered this year at Convoy of Hope, pick up a permission slip that you will bring with you to turn in at Convoy of Hope.
NHS Members: Volunteers are needed to work the Meet and Greet at Pate on Friday, November 8, from 7:30- 8:15 AM. You will provide your own transportation to Pate or complete a permission slip to ride with another student. Please sign up in room, 306, by Friday, November 1, to attend. This is an NHS sponsored activity.
the 2nd annual flu shot clinic is coming up!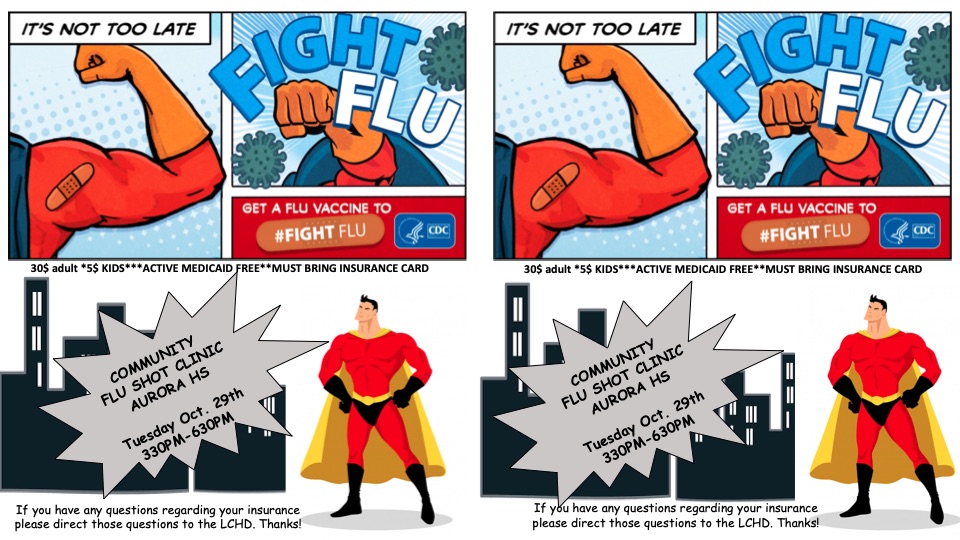 Health Services
This is a reminder student should not be sent to school sick. They are unable to learn well when they are feeling ill. If your child has a temperature of a 100 degrees or greater, vomiting, or diarrhea, he/she should stay at home until these symptoms have not occurred for 24 hours or otherwise approved by the school nurse.
A student who becomes ill or needs medical attention must report to the nurse's office for evaluation. If necessary, parents will be contacted and will be responsible for transportation if the student is sent home. STUDENTS WILL NOT BE ALLOWED TO LEAVE SCHOOL FOR AN ILLNESS UNLESS THEY HAVE VISITED THE NURSE'S OFFICE. Once it has been determined that a student needs to leave for medical reasons, they must sign out at that time in the office.
Parents and students, please help us with this task. We are not able to help students medically if the nurse is unaware of the medical situation at hand. Please talk with the nurse prior to coming to pick up your student.
REMEMBER....
If you are unable to have your sick child seen by your Primary Physician please remember the Cox Virtual Clinic that we now offer at the Aurora Schools. Cox hours currently are 8am-12pm. Below is an attached flyer with more information.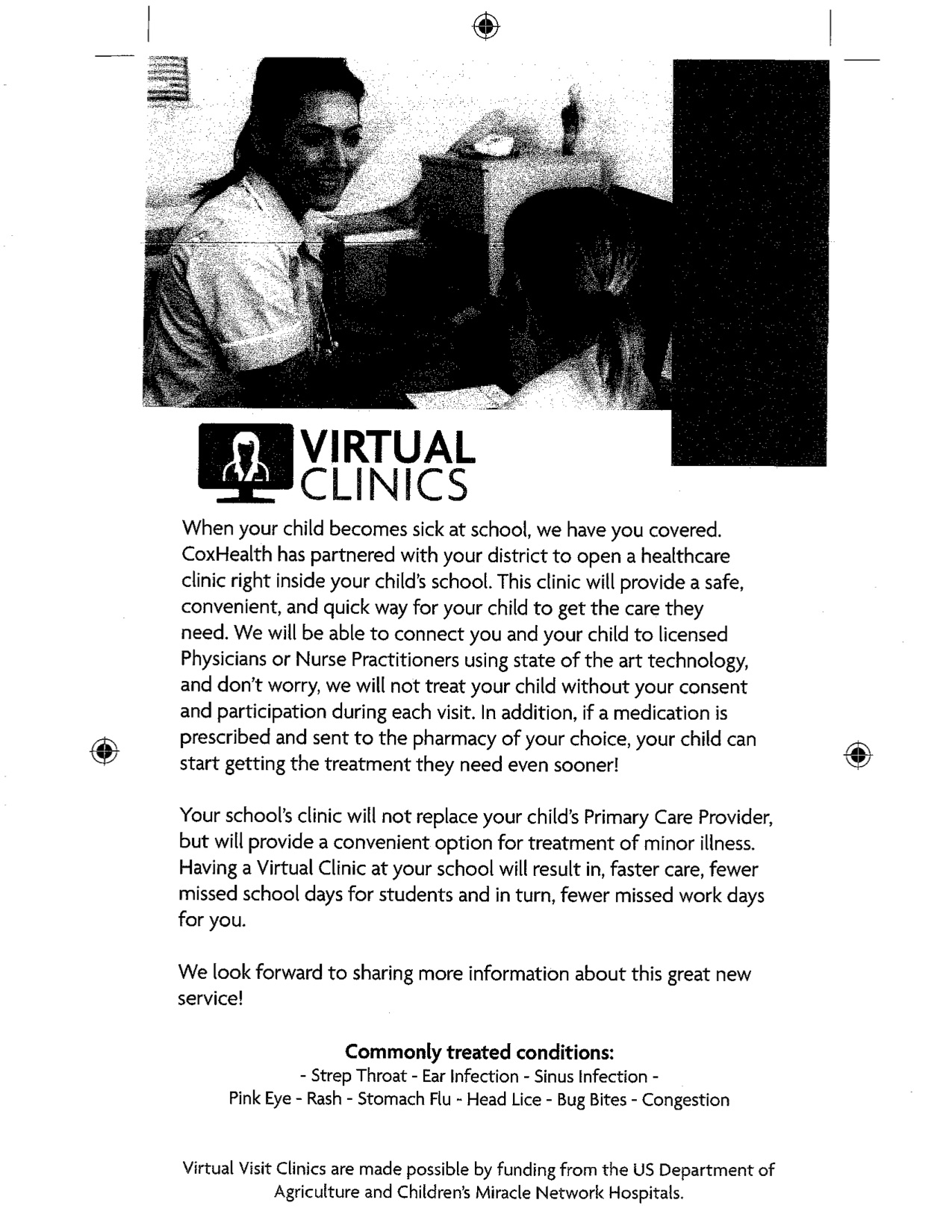 Students: second chance breakfast
This is just a reminder that breakfast is free; however, "Second Chance Breakfast" is only for you to get if you missed first breakfast. If you get more than one breakfast, your account will be charged.
Click on this link to access the lunch menu.
Reminder: If your lunch balance falls below -$10.00 (negative ten dollars), your lunch account will have a block placed on it, and you will receive a sack lunch--this includes a sandwich, fruit, and milk--from the the cafeteria until your account is paid. If you have any questions, please feel free to contact Amy in the high school office, or you can email her at amyjones@aurorar8.org
Trauma-Informed Schools
This link includes information, links, and phone numbers for numerous agencies to assist students, parents, community members, and staff.
Counseling Office Announcements
Here's how to do an ONLINE (SELF) REFERRAL (which basically means you want to "sign up" to see one of the Counselors):
1)go to the school website www.aurorar8.org
2)click on the "sites" tab at the top, then click on "Aurora High School". You are now on the AHS page of the website.
3)click on "menu" and click on "counseling" and then "support".
4)click on "student self – referral form" and complete the form.
5)submit form
This will put you in a "queue" to the Counselors and you will be called in . . . at a time that is convenient for both you and the Counselor in approximately the order in which you made the request. The more you can tell the Counselors in the referral, the better they will be prepared for your visit.
The following representatives are scheduled for a upcoming lunch visits here at AHS:
Wednesday, October 9th - Navy
Thursday, October 10th - Missouri State University
Thursday, October 17th - Pittsburg State University
Wednesday, October 23rd - Central Methodist University
Thursday, October 24th - Army
Tuesday, November 5th - Ranken Technical College
Wednesday, December 6th - Drury Monett Campus
Information about the following scholarships/essay contests/workshops /open houses are starting to be available in the Counselor's Office. Below is what's posted so far. Please check back often!
National Co-op - 2/15
UPCOMING EVENTS CALENDAR
Monday, October 21st
Boys Soccer - Away - 4:30pm - New Covenant/Summit Prep

Tuesday, October 22nd
Labor Auction - Commons 6:30pm
Boys Soccer @ McDonald County 4:30pm
Volleyball @ Springfield Catholic 5pm

Thursday, October 24th
Cross Country - Reeds Spring 4:30pm
Boys Soccer @ Carl Junction 4:30pm
Volleyball Big 8 Showdown - Away
Fall Band Carnival 5-8pm

Friday, October 25th
Football @ Reeds Spring 7pm
Speech/Debate - Carthage Novice Tournament
NHS - Look for a Book - Pate 9-10am

Saturday, October 26th
Speech/Debate - Carthage Novice Tournament
All District Choir Performances

Sunday, October 27th
Cheer Regional Competition - STL
Monday, October 28th
Senior Class Meeting - Commons 8am
Academic Team @ Reeds Spring 4:45pm

Tuesday, October 29th
NHS Convoy of Hope 4-9:30pm
Community Flu Shot Clinic - Media Center 3:30 - 6:30pm

Wednesday, October 30th
National FFA Convention - Indianpolis, Indiana - Leaves 6:30am
Senior Class Composites - Black Box

Thursday, October 31st
National FFA Convention - Indianpolis, Indiana