EDIT MAIN
Announcements

science club
Science Club dues ($20) are to be turned in to Mr. Campbell no later than 12:15 on the 6th of September. If paying by check please make payable to Aurora Science Club, if paying with cash please put in an envelope with the students name.





FFA
The FFA Back to School Bash is Saturday August 24th beginning at 5:30pm. This is for anyone who is enrolled in an Agricultural class. We will be playing games/laser tag/karaoke, eating, and watching Jumanji. This is free to FFA members and will end around 10:30pm. Please come in the shop door by the greenhouse.





TASTE 4
Something new has arrived at Aurora High School!! Its the next generation of High School Dining!!! TASTE4 by Sodexo!! For the month of August we will be celebrating the culture and cuisine of Mexico with dishes such as: Green Chili Chicken with Cilantro Lime Crema, or Pico Ranch Sause. We also have an adventure station that will change weekly! Our first week back students will enjoy Chopsticks AT our asian inspIration station. next week the adventure station is called 'STRUTTERS' - we will have chicken tenders, pesto roasted chicken, mashed potatoes, biscuits, and waffles. Check us out in the Cafeteria and welcome to the new dining experience for Aurora High Students. VIEW THE LUNCH MENU ON OUR DISTRICT WEBSITE OR DOWNLOAD THE APP 'SO HAPPY'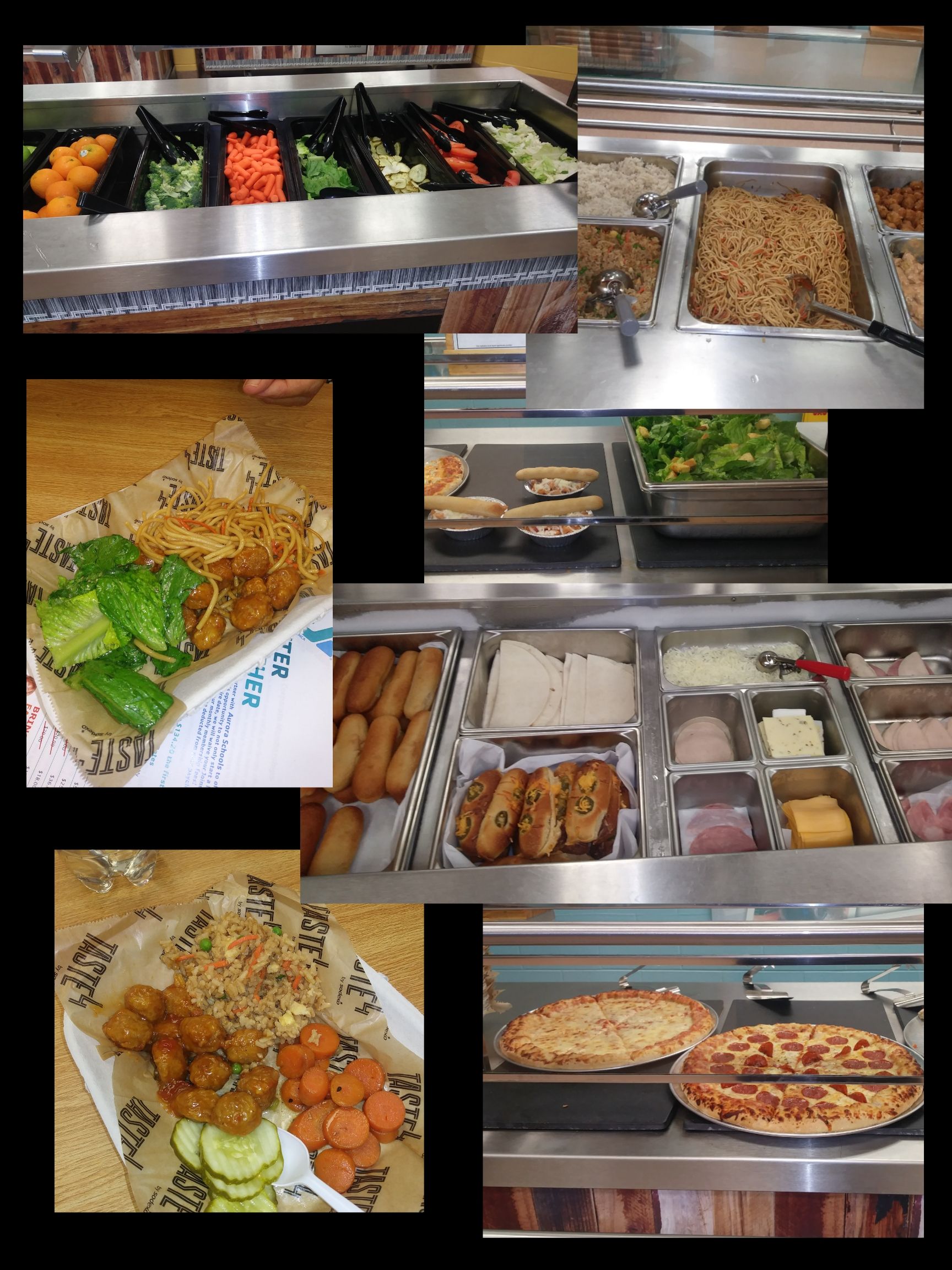 MISSOURI FBLA-PBL
WINS BIG AT NATIONAL LEADERSHIP CONFERENCE
Aurora, MO, June 29-July 3– 2 members, Seniors Colby Kessinger (competing in Cybersecurity) and
Kenyon Broten (competing in Journalism) of the Missouri Future Business Leaders of America
Chapter from Aurora High School recently travelled to San Antonio, Texas for the FBLA-PBL National
Leadership Conference (NLC). The NLC is the pinnacle of the year, with over 14,000 attendees and
140 competitive events. Colby and Kenyon both qualified at the State Leadership Conference in
Springfield, Missouri in April.
This year's NLC brought members to the home of the Alamo and the famed Riverwalk – San Antonio,
Texas – for several days of interactive leadership workshops from the KPMG, Tallo, and MBA
Research. Students also toured the sites around San Antonio and Austin, networked with members
from other states and the world, and competed for national recognition and scholarship.
Student competitive events have topics ranging from Accounting to Marketing, Website
Development to Personal Finance. All competitive events are aligned to the standards taught in
Missouri classrooms, allowing for an intra-curricular experience to showcase skill attainment.
Missouri FBLA brought home 41 Top 10 finishes and 68 trophies.
Missouri FBLA-PBL, a chartered member of National FBLA-PBL, is a registered 501(c)3. Their mission
inspires and prepares students to become community-minded business leaders in a global society
through relevant career preparation and leadership experiences. Missouri FBLA-PBL membership
exceeds 15,000, making it the second largest state chapter of the organization in the nation and the
second largest career and technical student organization in Missouri.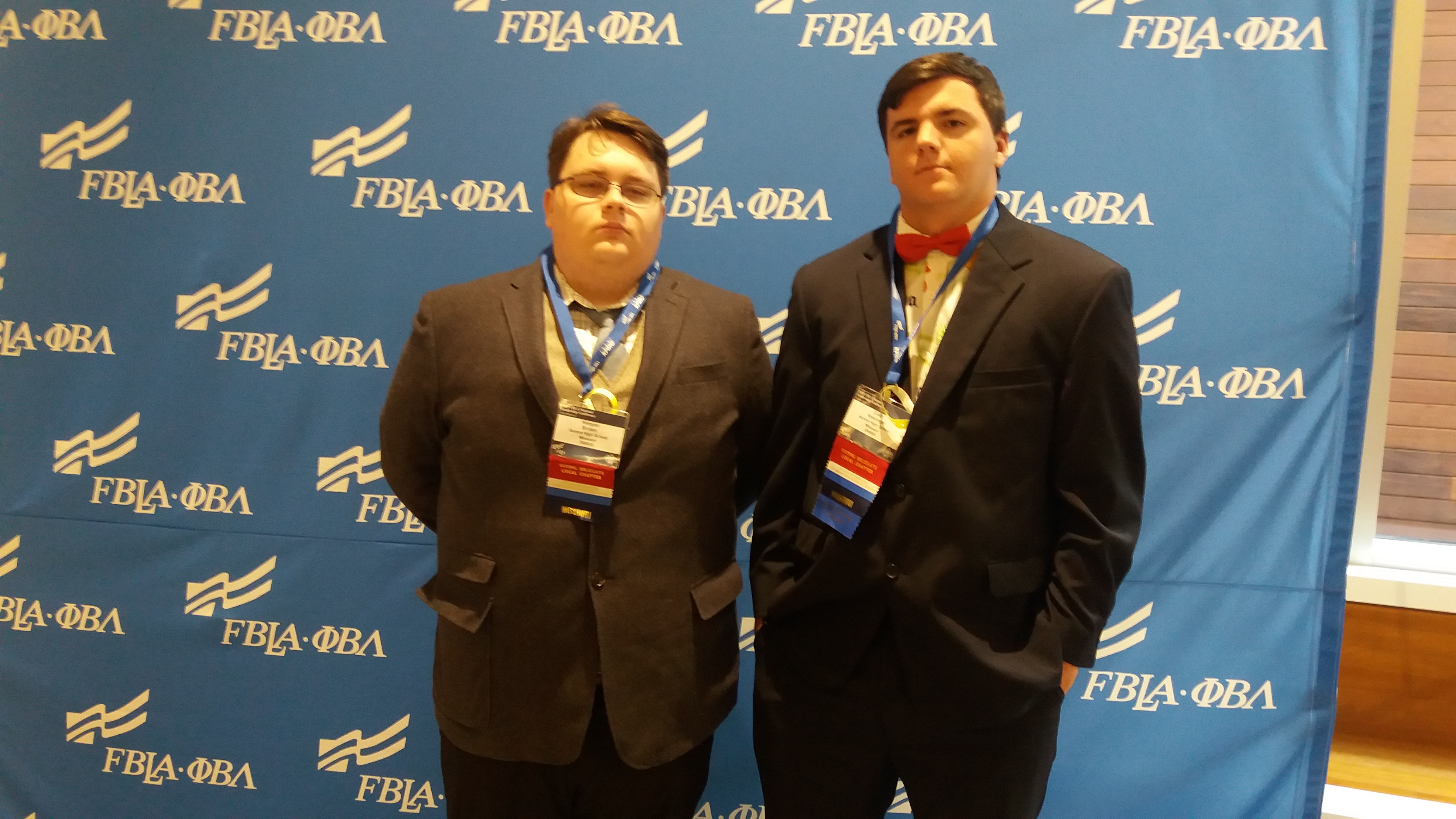 Health Services
This is a reminder student should not be sent to school sick. They are unable to learn well when they are feeling ill. If your child has a temperature of a 100 degrees or greater, vomiting, or diarrhea, he/she should stay at home until these symptoms have not occurred for 24 hours or otherwise approved by the school nurse.
A student who becomes ill or needs medical attention must report to the nurse's office for evaluation. If necessary, parents will be contacted and will be responsible for transportation if the student is sent home. STUDENTS WILL NOT BE ALLOWED TO LEAVE SCHOOL FOR AN ILLNESS UNLESS THEY HAVE VISITED THE NURSE'S OFFICE. Once it has been determined that a student needs to leave for medical reasons, they must sign out at that time in the office.
Parents and students, please help us with this task. We are not able to help students medically if the nurse is unaware of the medical situation at hand. Please talk with the nurse prior to coming to pick up your student.
REMEMBER....
If you are unable to have your sick child seen by your Primary Physician please remember the Cox Virtual Clinic that we now offer at the Aurora Schools. Cox hours currently are 8am-12pm. Below is an attached flyer with more information.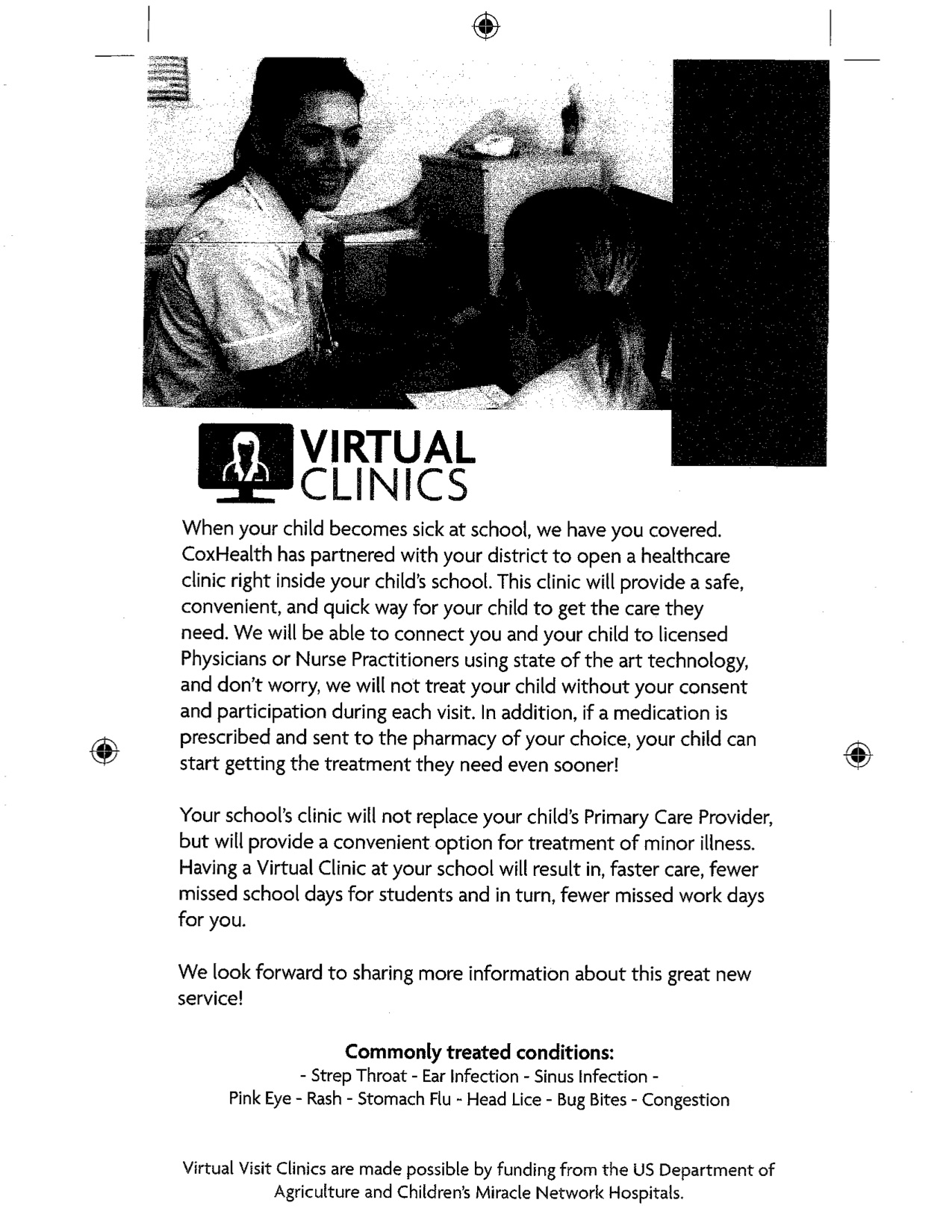 Students: second chance breakfast
This is just a reminder that breakfast is free; however, "Second Chance Breakfast" is only for you to get if you missed first breakfast. If you get more than one breakfast, your account will be charged.
Click on this link to access the lunch menu.
Reminder: If your lunch balance falls below -$10.00 (negative ten dollars), your lunch account will have a block placed on it, and you will receive a sack lunch--this includes a sandwich, fruit, and milk--from the the cafeteria until your account is paid. If you have any questions, please feel free to contact Amy in the high school office, or you can email her at amyjones@aurorar8.org




Trauma-Informed Schools
This link includes information, links, and phone numbers for numerous agencies to assist students, parents, community members, and staff.



Counseling Office Announcements
Here's how to do an ONLINE (SELF) REFERRAL (which basically means you want to "sign up" to see one of the Counselors):
1)go to the school website www.aurorar8.org
2)click on the "sites" tab at the top, then click on "Aurora High School". You are now on the AHS page of the website.
3)click on "menu" and click on "counseling" and then "support".
4)click on "student self – referral form" and complete the form.
5)submit form
This will put you in a "queue" to the Counselors and you will be called in . . . at a time that is convenient for both you and the Counselor in approximately the order in which you made the request. The more you can tell the Counselors in the referral, the better they will be prepared for your visit.
The following representatives are scheduled for a upcoming lunch visits here at AHS:
Tuesday, September 3rd - Baptist Bible College
Wednesday, September 4th - Drury Monett Campus
Monday, September 9th - University of Chicago
Wednesday, September 11th - Marines
Thursday, September 12th - Upward Bound (freshman homeroom)
Wednesday, October 2nd - Drury Monett Campus
Thursday, October 17th - Pittsburg State University
Wednesday, October 23rd - Central Methodist University
Tuesday, November 5th - Ranken Technical College
Wednesday, December 4th - Drury Monett Campus
Information about the following scholarships/essay contests/workshops /open houses are will soon be available in the Counselor's Office.
UPCOMING EVENTS CALENDAR
Friday, August 23rd
Jamboree @ Branson
Saturday, August 24th
Cheer Stunt Camp @ High School 1-4pm
Ag Back To School Party

Friday, August 30th
Varsity Football @ Cassville
Boys Soccer @ Joplin 4:30pm
Softball @ Home VS SGF Hillcrest 4:30pm
Monday, September 2nd
NO SCHOOL

Tuesday, September 3rd
Volleyball @ Home VS Lamar 5pm
Softball @ Logan Rogersville 4:30pm
Tennis @ Home VS Lamar 4:30pm
Boys Soccer Cassville Tournament - Away
Wednesday, September 4th
Tennis @ Neosho 4:30pm
Boys Soccer Cassville Tournament - Away
Thursday, September 5th
Hot Dawg Invitational Cross Country Meet
Volleyball @ Clever 6pm
Tennis @ Reeds Spring 4:30pm
Softball @ Home VS Lamar 4:30pm
Friday, September 6th
Varsity Football @ Home VS East Newton 7pm
Saturday, September 7th
Cheerleading Pancake Breakfast 7-10am - Commons
State Livestock Contest - Columbia

Monday, September 9th
Tennis SFG Greenwood - Away 4:30pm
Boys Soccer @ Home vs SGF Greenwood 4:30pm
Softball @ Home VS Hartville 4:30

Tuesday, September 10th
Volleyball @ Home VS Carthage 5pm
Softball @ Monett 4:30pm
Thursday, September 12th
Ag UMC Field Day - Mt. Vernon 8am to 2pm
Cross Country @ Willow Springs 4pm
Softball @ Home VS McDonald County 4:30pm
Friday, September 13th
Varsity Football @ Lamar 7pm
Boys Soccer SGF Parkview Tournament - Away
Softball Walnut Grove Tournament - Away
Saturday, September 14th
Percussion Preview @ Nixa
Volleyball Aurora JV Tournament @ Home
Boys Soccer SGF Parkview Tournament - Away
Softball Walnut Grove Tournament - Away
Sunday, September 15th
National Farm Safety Week

Monday, September 16th
Volleyball @ Joplin 5pm
Tennis @ Home VS College Heights 4:30pm
Boys Soccer @ Monett 4:30pm
Softball @ Home VS Branson 4:30pm
Tuesday, September 17th
Ag Area Motivational Conference - Crowder College
Cross Country @ Monett 4pm
Tennis @ Home VS Mt. Vernon 4:30pm
Softball @ East Newton 4:30pm
Volleyball @ Home VS Strafford 5pm
Wednesday, September 18th
FBLA Silver Dollar City 8am-5pm
Tennis @ Monett Tournament 4:30pm
Thursday, September 19th
Blood Drive
Drama Production Auditions
Area 11 Barn Warming 6-9pm McDonald County
Volleyball @ East Newton 6pm
Boys Soccer @ Home VS Neosho 4:30pm
Cross Country @ Hollister

Friday, September 20th
Varsity Football @ Home VS Logan Rogersville 7pm
Tennis @ Clever 4:30pm
Softball Tournament @ Branson
Saturday, September 21st
Marching Band Competition @ Carl Junction
Booster Club Show Clinic
Softball Tournament @ Branson


Monday, September 23rd
Tennis @ Monett 4:30pm
Boys Soccer @ Logan Rogersville 4:30pm
Softball @ Home VS Marshfield 4:30pm


Tuesday, September 24th
Boys Soccer @ Home VS Bolivar 4:30pm
Softball @ Home VS Reeds Spring 4:30pm

Wednesday, September 25th
ALFA Program 7:30am-3pm - Pate
Adopt A Highway 60 Cleanup 12-1pm


Thursday, September 26th
Volleyball @ Seneca 5pm
Tennis @ Thomas Jefferson 4:30pm
Softball @ Bolivar 4:30pm

Friday, September 27th
Varsity Football @ Mt. Vernon 7pm
Tennis Tournament @ Nixa 4:30pm
Boys Soccer @ Home VS SGF Parkview 4:40pm
Saturday, September 28th
Marching Band Competition @ Mt. Vernon
Volleyball Tournament @ Carl Junction & Cassville C Tournament
Cross Country @ Columbia 9am
Softball @ Nixa - Halfway Doubleheader 10am

Sunday, September 29th
Homecoming Bonfire


Monday, September 30th
Volleyball @ Home VS Monett 5pm