EDIT MAIN
ANNOUNCEMENTS

PARENT/TEACHER CONFERENCE
WILL BE HELD ON MONDAY, 10/18 AND TUESDAY, 10/19 FROM 4-7PM.
NHS
The National Honor Society Scholarship is now open. Deadline to submit your application is December 1. Please access the scholarship at https://www.nhs.us/students/the-nhs-scholarship/ Last year Elizabeth Martin won a scholarship for over $3,000. Let Mrs. Garoutte know if you have questions or need help.

NHS Members: We will travel to Convoy of Hope for the final time this semester on Tuesday, April 13, leaving the school at 4 PM and returning around 9:30 PM. We will eat before volunteering; please bring money. You will be required to wear a mask while volunteering. Please sign-up by Thursday, April 8, in Mrs. Garoutte's room, 306. Sign-up only if you are sure you will attend. If you have not volunteered this year at Convoy of Hope, pick up a permission slip that you will bring with you to turn in at Convoy of Hope.
MANDATORY SENIOR MEETING
Will be held on Monday, 10/25 in the commons - 8am
COLLEGE REP. VISIT (IN THE COMMONS DURING LUNCH)
THURSDAY, 10/21 - CROWDER COLLEGE
MONDAY, 10/25 - MISSOURI S&T
TUESDAY, 10/26 - SGT. OBANNON
MONDAY, 11/1 - MSSU
Aurora High School September students of the month.

Freshman - Castle Spieker
Juniors - Orran Cope, Brandyn Pina (not pictured)
Senior - Khianna Hart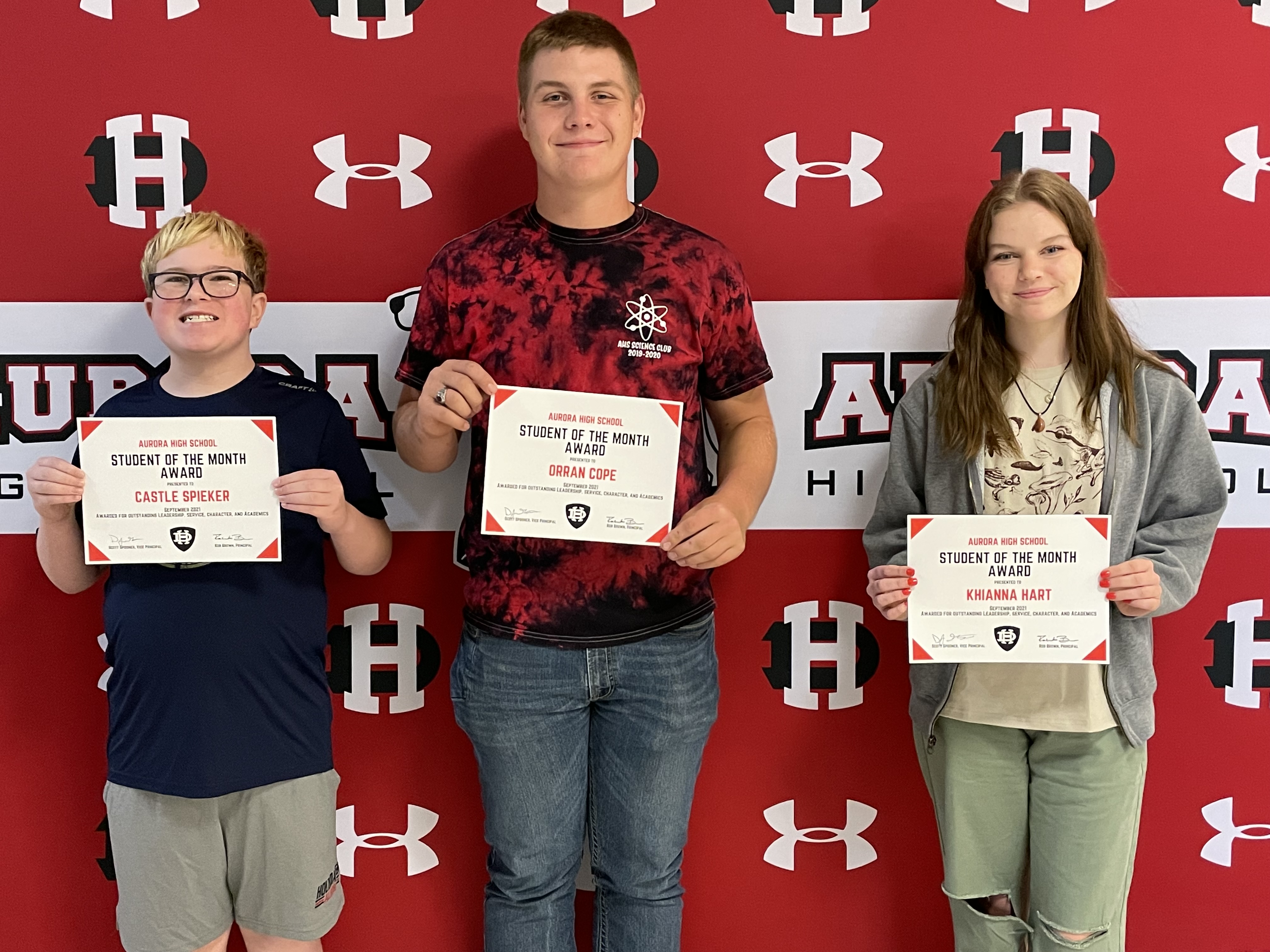 UPCOMING EVENTS CALENDAR
WEDNESDAY, 10/13
PICTURE RE TAKES
THURSDAY, 10/14
BOYS SOCCER @ WEBB CITY 5PM
VOLLEYBALL @ MT. VERNON 5PM
FRIDAY, 10/15
SPEECH/DEBATE - WILLARD TOURNAMENT
FOOTBALL @ REEDS SPRING 7PM
SATURDAY, 10/16
SPEECH/DEBATE - WILLARD TOURNAMENT
BOYS SOCCER - WILLARD JV TOURNAMENT (AWAY)
MARCHING CAMP - CARTHAGE
SUNDAY, 10/17
FALL "POPS" CONCERT 2PM
MONDAY, 10/18
FOOTBALL VS REEDS WPRING 6PM
SOCCER VS PARKVIEW 5PM
PARENT/TEACHER CONFERENCE 4-7PM
TUESDAY, 10/19
LABOR AUCTION (COMMONS AREA) 6PM
CROSS COUNTRY @ MCDONALD COUNTY - BIG 8 CONFERENCE
VOLLEYBALL BIG 8 SHOWDOWN - AWAY
BOYS SOCCER VS GREENWOOD 5PM
PARENT/TEACHER CONFERENCE 4-7PM
WEDNESDAY. 10/20
FFA - STATE GRASSLAND CDE IN COLUMBIA
THURSDAY, 10/21
FFA - STATE GRASSLAND CDE IN COLUMBIA
BOYS SOCCER @ CARL JUNCTION 6PM
LIT CLUB FIELD TRIP 11AM - 3:30PM
CROWDER COLLEGE LUNCH TABLE
FRIDAY, 10/22
FOOTBALL @ NEVADA 7PM
SATURDAY, 10/23
CARTHAGE NOVICE DEBATE TOURNAMENT
CROSS COUNTRY @ REEDS SPRING
MARCHING COMP - REEDS SPRING
MONDAY, 10/25
FOOTBALL VS NEVADA 6PM
MISSOURI S&T TABLE @ LUNCH
TUESDAY, 10/26
BOYS SOCCER @ MCDONALD COUNTY 5PM
FAFSA NIGHT IN MEDIA CENTER 5-7PM
SGT OBANNON LUNCH TABLE
WEDNESDAY, 10/27
NATIONAL FFA CONVENTION - INDIANA
THURSDAY, 10/28
NATIONAL FFA CONVENTION - INDIANA
BAND CARNIVAL 5-8PM
FCCLA MASQUERADE 9-11:30PM
BOYS SOCCER VS BOLIVAR 5PM
SATURDAY, 10/30
CROSS COUNTRY DISTRICT MEET
COUNSELING OFFICE ANNOUNCEMENTS
HERE'S HOW TO LOOK UP YOUR CURRENT GPA
Here's how you can see your current GPA at any time. (Keep in mind that it can change at the end of each semester, once all grades are in.)
1.Go to school website www.aurorar8.org
2.Click on sites at the top of the screen and pull down High School
3. Click on "menu", then student/parent links
4.Click on "Tyler SIS"
5.Click on the "student" tab
6.Your username is your lunch pin
7.If you don't know your password, click on the link and follow instructions
8.Once you are on the site go to "Academic History" and your GPA "unweighted and weighted" will appear near the top toward the right
9.To convert the 11 point scale to the 4 point scale, just divide by 11 and multiply times 4.
10.Any question ask your counselor
HERE'S HOW TO DO AN ONLINE (SELF) REFERRAL (WHICH BASICALLY MEANS YOU WANT TO "SIGN UP" TO SEE ONE OF THE COUNSELORS):
1)go to the school website www.aurorar8.org
2)click on the "sites" tab at the top, then click on "Aurora High School". You are now on the AHS page of the website.
3)click on "menu" and click on "counseling" and then "support".
4)click on "student self – referral form" and complete the form.
5)submit form
This will put you in a "queue" to the Counselors and you will be called in . . . at a time that is convenient for both you and the Counselor in approximately the order in which you made the request. The more you can tell the Counselors in the referral, the better they will be prepared for your visit.
The following representatives are scheduled for a upcoming lunch visits here at AHS: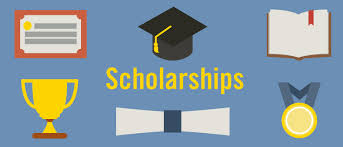 Information about the following scholarships/essay contests/workshops /open houses are starting to be available in the Counselor's Office.